hu
Also found in:
Dictionary
,
Thesaurus
,
Medical
,
Financial
,
Acronyms
,
Wikipedia
.
hu
(networking)

This article is provided by FOLDOC - Free Online Dictionary of Computing (foldoc.org)
country codes F-M
Following are the Internet country codes starting with F and ending with M. See country code.


Code Country
  FI   Finland
  FJ   Fiji
  FK   Falkland Islands (Malvinas)
  FM   Micronesia
  FO   Faroe Islands
  FR   France
  FX   France (European Territory)

  GA   Gabon
  GB   Great Britain
  GD   Grenada
  GE   Georgia
  GF   Guyana (French)
  GG   Guernsey (Channel Islands)
  GH   Ghana
  GI   Gibraltar
  GL   Greenland
  GM   Gambia
  GN   Guinea
  GP   Guadeloupe (French)
  GQ   Equatorial Guinea
  GR   Greece
  GS   South Georgia and South Sandwich Islands
  GT   Guatemala
  GU   Guam (U.S.)
  GW   Guinea Bissau
  GY   Guyana

  HK   Hong Kong
  HM   Heard and McDonald Islands
  HN   Honduras
  HR   Croatia
  HT   Haiti
  HU   Hungary

  ID   Indonesia
  IE   Ireland
  IL   Israel
  IM   Isle of Man
  IN   India
  IO   British Indian Ocean Territory
  IQ   Iraq
  IR   Iran
  IS   Iceland
  IT   Italy

  JE   Jersey (Channel Islands)
  JM   Jamaica
  JO   Jordan
  JP   Japan

  KE   Kenya
  KG   Kyrgyz Republic
  KH   Cambodia
  KI   Kiribati
  KM   Comoros
  KN   St.Kitts Nevis Anguilla
  KP   Korea (North)
  KR   Korea (South)
  KW   Kuwait
  KY   Cayman Islands
  KZ   Kazakstan

  LA   Laos
  LB   Lebanon
  LC   Saint Lucia
  LI   Liechtenstein
  LK   Sri Lanka
  LR   Liberia
  LS   Lesotho
  LT   Lithuania
  LU   Luxembourg
  LV   Latvia
  LY   Libya

  MA   Morocco
  MC   Monaco
  MD   Moldova
  MG   Madagascar
  MH   Marshall Islands
  MK   Macedonia
  ML   Mali
  MM   Myanmar
  MN   Mongolia
  MO   Macau
  MP   Northern Mariana Islands
  MQ   Martinique (French)
  MR   Mauritania
  MS   Montserrat
  MT   Malta
  MU   Mauritius
  MV   Maldives
  MW   Malawi
  MX   Mexico
  MY   Malaysia
  MZ   Mozambique

---
head unit
The control center and user interface for an automobile's information and entertainment center, which typically resides in the center of the dashboard. Also called a "receiver," the head unit provides the main controls for the radios (any combination of AM, FM, SiriusXM, HD Radio) as well as a CD/DVD player, GPS navigation, Bluetooth cellphone integration and music storage. In new vehicles, several head unit controls, such as volume, answer/hang up and switch channel are duplicated with buttons on the steering wheel.

Self-Contained
The head units have their own amplifiers for powering the speakers, but may have optional outputs for more powerful, stand-alone amplifiers. They may also have inputs for smartphones (see CarPlay and Android Auto). See in-dash navigation.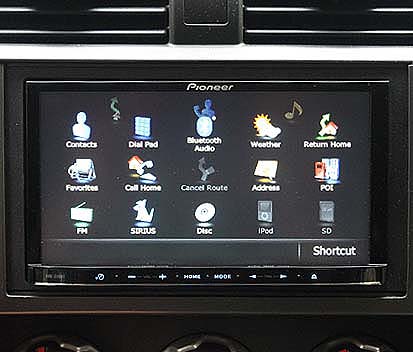 After Market Head Unit
This Pioneer model Z110 replaced the original head unit in a 2008 Honda, but the speakers were not changed. The Z110 added navigation, DVD and iPod playback, hands-free phoning and several other features.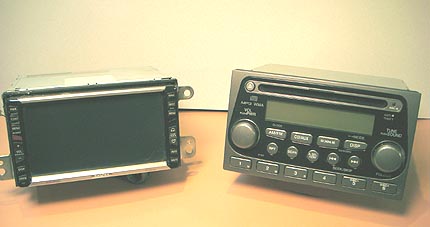 Out of the Vehicle
The Eclipse after market navigation system on the left replaced the factory head unit on the right.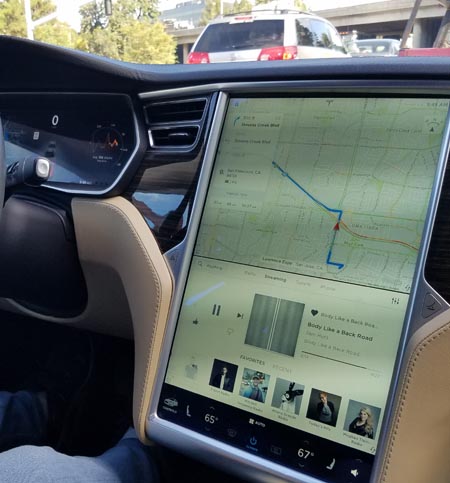 No Compromise Head Unit
Unlike any other automobile, the 17" touchscreen in a Tesla is quite extraordinary. More like a laptop computer than a head unit, it displays a huge range of information as well as navigation.
Copyright © 1981-2019 by The Computer Language Company Inc. All Rights reserved. THIS DEFINITION IS FOR PERSONAL USE ONLY. All other reproduction is strictly prohibited without permission from the publisher.