Hyperboloids
Also found in:
Dictionary
,
Thesaurus
.
The following article is from The Great Soviet Encyclopedia (1979). It might be outdated or ideologically biased.
Hyperboloids
open centric surfaces of the second degree. Two types of hyperboloids are distinguished: hyperboloid of one sheet (Figure 1) and hyperboloid of two sheets (Figure 2). They represent two of the five principal types of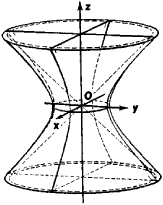 second-degree surfaces and, on intersection with various planes, give all the conic sections—the ellipse, hyperbola, and parabola—as well as pairs of straight lines (in the case of a hyperboloid of one sheet). A hyperboloid comes infinitely close to a conic surface (the so-called asymptotic cone). The hyperboloid of one sheet is a ruled surface. In the corresponding coordinate system (see Figures 1 and 2), the equations of the hyperboloids have the form

The Great Soviet Encyclopedia, 3rd Edition (1970-1979). © 2010 The Gale Group, Inc. All rights reserved.