Internet Protocol
(redirected from IP based network)
Internet protocol
[

¦in·tər'net ′prōd·ə'kȯl

]

(communications)

The set of standards responsible for ensuring that data packets transmitted over the Internet are routed to their intended destinations. Abbreviated IP.

McGraw-Hill Dictionary of Scientific & Technical Terms, 6E, Copyright © 2003 by The McGraw-Hill Companies, Inc.
Internet Protocol
(networking)

This article is provided by FOLDOC - Free Online Dictionary of Computing (foldoc.org)
Internet Protocol
The communications technology of the public Internet, local area networks (LANs) and most wide area networks (WANs). The Internet Protocol (IP) is part of the TCP/IP protocol suite, and the terms "IP network" and "TCP/IP network" are synonymous.

Packet Switching
The Internet uses a packet-switched architecture, in which data are broken up into smaller "packets," with each packet containing a source address and destination address. Internet protocol (IP) packets are handed over to a data link layer protocol, for the physical transmission to the next node in the network path.

IP is the Network Layer
While "IP" refers to the entire TCP/IP protocol suite, "IP layer" refers to just the network-to-network part, occupying layer 3 in the "protocol stack" (see below). To learn about IP networking, see TCP/IP and TCP/IP abc's. See OSI model, IP address and IP on Everything.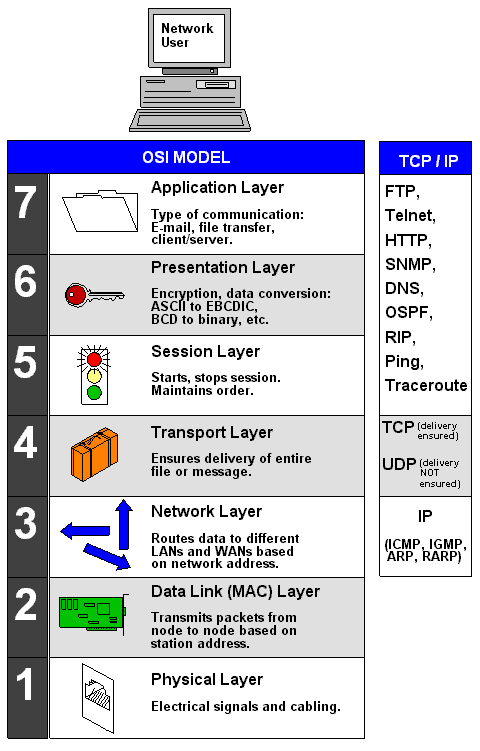 The TCP/IP "Stack"
The layer 3 Internet Protocol resides in the middle of the TCP/IP stack. It accepts packets from the upper layer TCP or UDP protocols and hands them to a lower layer data link protocol. Within a local network, the data link protocol is typically Ethernet. Within the public Internet, the data link protocols are SONET, ATM, frame relay and Carrier Ethernet.
Copyright © 1981-2019 by The Computer Language Company Inc. All Rights reserved. THIS DEFINITION IS FOR PERSONAL USE ONLY. All other reproduction is strictly prohibited without permission from the publisher.