Ica
Also found in:
Dictionary
,
Thesaurus
,
Medical
,
Financial
,
Acronyms
,
Wikipedia
.
Içá,
river, Brazil: see PutumayoPutumayo
or Içá
, river, c.1,000 mi (1,600 km) long, rising in the Andes, S Colombia, and flowing SE to the Amazon in NW Brazil. Mostly navigable, it marks part of Colombia's boundary with Ecuador and most of Colombia's frontier with Peru.
.....

Click the link for more information.

.
---
Ica
(ē`kä)

, city (1993 pop. 108,724), capital of Ica region, SW Peru, on the Pan-American HighwayPan-American Highway,
system of roads, c.16,000 mi (25,750 km) long, linking the nations of the Western Hemisphere. It was suggested at the Fifth International Conference of American States (1923) and supported and financed by the United States during the 1940s and 1950s.
.....

Click the link for more information.

. It is a commercial center for the cotton, wool, and wine produced in the region. There are several summer resorts nearby. Ica is also the archaeological name of the Chincha empire of ancient Peru, which had one of its major centers in the adjacent valley. The empire fell to the Inca in the 15th cent. The Spanish settled the city in 1563. In Ica is the shrine of Our Lord of Luren, the site of colorful pilgrimages. The city has been devastated by earthquakes several times, most recently in 2007. It has a museum and a university.
Ica
a city in Peru on the Pan-American Highway, the administrative center of lea Department. Population, 61,400 (1966). Ica is linked by railroad with the port of Pisco. The city is the trade center of an agricultural region (cotton and grapes). Textile and food industries are there, as is a university. The city of Ica was founded in 1563.
ICA
(Independent Computing Architecture) An input/output presentation protocol from Citrix that governs the keyboard, mouse and screen formatting between clients and servers in Citrix's products. Originally "Intelligent Console Architecture."

The First Windows Thin Client Computing
Using Citrix's WinFrame on Windows NT in the mid-1990s, ICA was the first protocol to provide thin client computing for Windows. Soon after, Microsoft came out with its Terminal Services, based largely on Citrix software, but using the RDP protocol. ICA supports numerous client platforms, including Windows, DOS, Mac, Unix, Linux and Java. See thin client, WinFrame, Citrix XenApp and Citrix XenDesktop.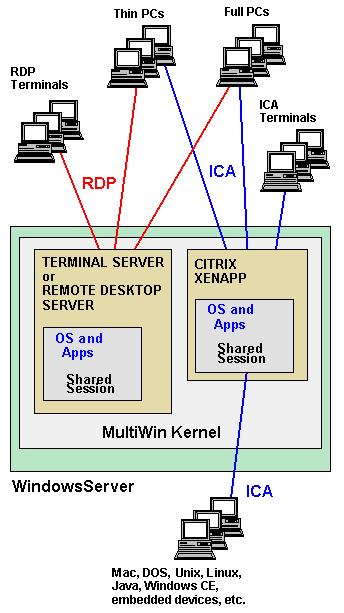 ICA in Practice
ICA is used in Citrix products such as XenApp, while Remote Desktop Protocol (RDP) is used in Microsoft's built-in thin client software.