Ictinus
Also found in:
Dictionary
,
Wikipedia
.
Ictinus
Ictinus
(ĭktīˈnəs)
, fl. 2d half of 5th cent. B.C., one of the greatest architects of Greece. His celebrated work is the
Parthenon
(447–432 B.C.) upon the
acropolis
at Athens, which he built with the architect
Callicrates
as associate. Ictinus also built the temple of Apollo Epicurius at Bassae, near Phigalia, c.430 B.C. and is said to have rebuilt the Telesterion at Eleusis.
The Columbia Electronic Encyclopedia™ Copyright © 2022, Columbia University Press. Licensed from Columbia University Press. All rights reserved.
Ictinus
(c. 500 B.C.)

Greek architect and designer of the Parthenon, with Callicrates, and the Temple of Apollo Epicurius, Bassae, which had a Doric Order outside, an Ionic Order inside, and a Corinthian Order at the end.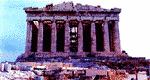 Illustrated Dictionary of Architecture Copyright © 2012, 2002, 1998 by The McGraw-Hill Companies, Inc. All rights reserved
The following article is from The Great Soviet Encyclopedia (1979). It might be outdated or ideologically biased.
Ictinus
Ancient Greek architect of the second half of the fifth century B.C.
Ictinus built the Parthenon with Callicrates (447–438 B.C.). Ictinus also built the Odeon of Pericles in Athens; the temple of Apollo in Bassae (c. 430 B.C.), which first used the Corinthian capital and order as an element of tectonic decor; and the Teles-trion in Eleusis (430's B.C.; completed in the late fifth century B.C. in altered form). Ictinus made innovative use of the traditional means of architectural orders to create new forms. His architecture is marked by plasticity and an organic fusion of Doric and Ionic forms.
REFERENCE
Vseobshchaia istoriia arkhitektury, vol. 2, book 1. Moscow, 1949.
The Great Soviet Encyclopedia, 3rd Edition (1970-1979). © 2010 The Gale Group, Inc. All rights reserved.
Ictinus
5th century
bc
, Greek architect, who designed the Parthenon with Callicrates
Collins Discovery Encyclopedia, 1st edition © HarperCollins Publishers 2005