Ictinus
(redirected from Iktinos)
Also found in:
Dictionary
,
Wikipedia
.
Ictinus
(ĭktī`nəs)

, fl. 2d half of 5th cent. B.C., one of the greatest architects of Greece. His celebrated work is the ParthenonParthenon
[Gr.,=the virgin's place], temple sacred to Athena, on the acropolis at Athens. Built under Pericles between 447 B.C. and 432 B.C., it is the culminating masterpiece of Greek architecture. Ictinus and Callicrates were the architects and Phidias supervised the sculpture.
.....

Click the link for more information.

(447–432 B.C.) upon the acropolisacropolis
[Gr.,=high point of the city], elevated, fortified section of various ancient Greek cities.

The Acropolis of Athens, a hill c.260 ft (80 m) high, with a flat oval top c.
.....

Click the link for more information.

at Athens, which he built with the architect CallicratesCallicrates
, 5th cent. B.C., Greek architect. In association with Ictinus he built (447–432 B.C.) the Parthenon at Athens. At Athens also he designed (c.427) the Temple of Nike.
.....

Click the link for more information.

as associate. Ictinus also built the temple of Apollo Epicurius at Bassae, near Phigalia, c.430 B.C. and is said to have rebuilt the Telesterion at Eleusis.
Ictinus
(c. 500 B.C.)

Greek architect and designer of the Parthenon, with Callicrates, and the Temple of Apollo Epicurius, Bassae, which had a Doric Order outside, an Ionic Order inside, and a Corinthian Order at the end.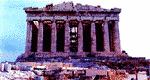 Ictinus
Ancient Greek architect of the second half of the fifth century B.C.
Ictinus built the Parthenon with Callicrates (447–438 B.C.). Ictinus also built the Odeon of Pericles in Athens; the temple of Apollo in Bassae (c. 430 B.C.), which first used the Corinthian capital and order as an element of tectonic decor; and the Teles-trion in Eleusis (430's B.C.; completed in the late fifth century B.C. in altered form). Ictinus made innovative use of the traditional means of architectural orders to create new forms. His architecture is marked by plasticity and an organic fusion of Doric and Ionic forms.
REFERENCE
Vseobshchaia istoriia arkhitektury, vol. 2, book 1. Moscow, 1949.
Ictinus
5th century
bc
, Greek architect, who designed the Parthenon with Callicrates