impeller
(redirected from Impellor)
Also found in:
Dictionary
,
Thesaurus
.
impeller
[

im′pel·ər

]

(mechanical engineering)

The rotating member of a turbine, blower, fan, axial or centrifugal pump, or mixing apparatus. Also known as rotor.
impeller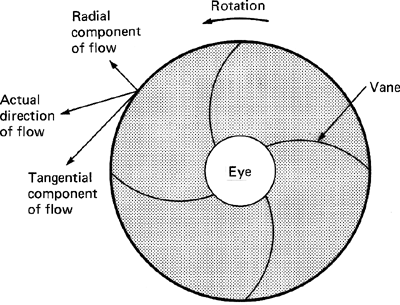 The rotating member in a
pump
consisting of a disk with vanes attached to it; moves liquid by accelerating the liquid radially outward.
impeller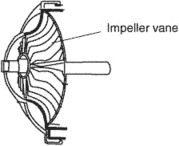 i
. A part of a gas turbine engine used in the compressor section. It consists of a forged disc with radially opposed vanes on one or both sides, forming a convergent passage in conjunction with the compressor casing.
ii
. A device that imparts motion to a fluid; specifically, in a centrifugal compressor, a rotary disc that is faced on one or both sides with radial vanes and accelerates the incoming fluid outward into a diffuser. Also called an
impeller wheel
.
iii
. A vaned disc, which picks up and accelerates the air outwardly to increase the pressure in a supercharger of a reciprocating engine.