inkjet printer
(redirected from Ink jet printers)
Also found in:
Dictionary
.
inkjet printer
(hardware, printer)

A class of printer in which small ink droplets are sprayed electrostatically from a nozzle onto the paper.

Inkjet printers are very quiet in comparison to impact printers.

A popular example is the

Olivetti

BJ10.
inkjet printer
A printer that propels droplets of ink directly onto the medium. Today, almost all inkjet printers produce color. Low-end inkjets use three ink colors (cyan, magenta and yellow), but produce a composite black that is often muddy. Four-color inkjets (CMYK) use black ink for pure black printing. Inkjet printers run the gamut from less than a hundred to a couple hundred dollars for home use to tens of thousands of dollars for commercial poster printers. See inkjet cartridge.

Consumables
The cost of ink cartridges for low-priced printers can make the less-expensive inkjet model more costly in the long run. For example, if the black ink does not come in a separate cartridge, you have to replace the entire four-color unit when you run out of black.

Resolution Quality
For resolution quality, examine text samples, not graphics. Graphics always look better than text. For color quality, be sure that samples from different models are printed on the same kind of paper. Coated specialty papers, although costly, greatly improve the printed results, because they do not absorb the ink like regular copy paper. Ink and paper costs are ongoing, which must be taken into consideration.

Wide-Format Printers
Large wide-format inkjet printers are used to produce final output for commercial posters and banners. Such printers can print on vinyl and textiles as well as paper, and their quality is extraordinary. Wide-format printers have also replaced pen plotters that used to "draw" engineering and architectural renderings.


Continuous Ink Vs. Drop on Demand

The first inkjet mechanism that was developed sprays a continuous stream of droplets that are aimed onto the paper. Although still used, most inkjets use the drop on demand method, which forces a drop of ink out of a chamber by heat or electricity. The thermal method used by HP, Canon and others heats a resistor that forces a droplet of ink out of the nozzles by creating an air bubble in the ink chamber. Epson and others use a piezoelectric technique that charges crystals which expand and "jet" the ink. See solid ink printer, IRIS printer, printer and ink coverage.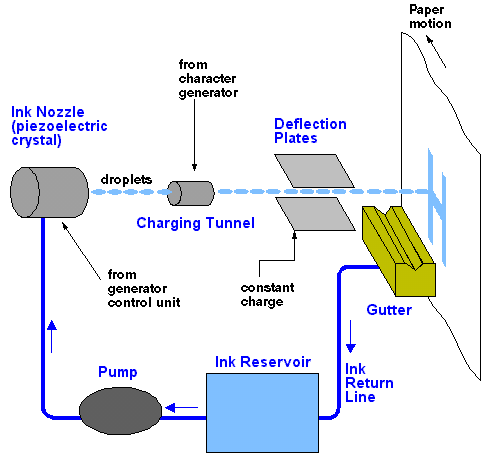 Continuous Inkjet Technology
This method sprays continuous droplets of ink that either reach the paper or wind up in the return gutter. The nozzle uses a piezoelectric crystal to synchronize the chaotic droplets that arrive from the pump. The charging tunnel selectively charges the drops that are deflected into the gutter. The uncharged droplets make it to the paper. The diagram depicts a single nozzle.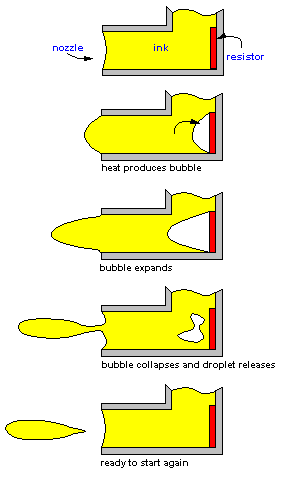 Thermal Drop on Demand Method
The thermal drop on demand inkjet technology is very popular. Used by HP, Canon and others, droplets of ink are forced out of the nozzle by heating a resistor, which causes an air bubble to expand. When the bubble collapses, the droplet breaks off and the system returns to its original state.
Drop on Demand Printheads
There are two ways to "jet" the ink in drop on demand systems. The thermal method heats a resistor and expands an air bubble. The piezoelectric method charges crystals that expand.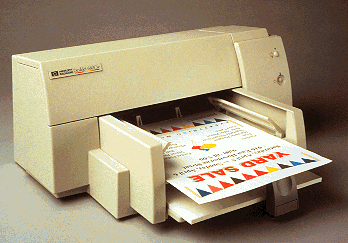 Letter Size
The majority of desktop inkjet printers support standard letter-size or legal-size paper. This is one of HP's earlier DeskJets, which popularized the inkjet printer and helped bring prices down for the home and small business. (Image courtesy of Hewlett-Packard Company.)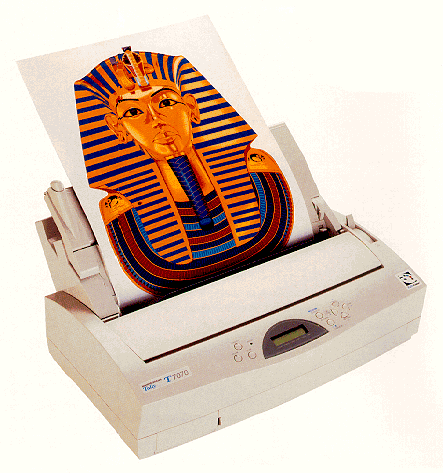 Larger Paper
Many inkjet printers can print on large paper. This earlier unit from Tally handled cut sheets up to 17" wide. (Image courtesy of Tally Printer Corporation.)
The Largest
Wide format inkjet printers such as shown here in VUTEk's datacenter have revolutionized the printing industry, enabling large, attractive graphics to be created one at a time. Such machines support up to eight colors and can print on a variety of media, including vinyl and textiles. (Image courtesy of VUTEk, Inc., www.vutek.com)