Interior finish
Interior finish
The final appearance of all exposed interior surfaces; floors, walls, ceilings, and all finish materials, such as tile, marble, plastic laminate, wood, and paint.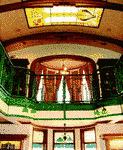 Illustrated Dictionary of Architecture Copyright © 2012, 2002, 1998 by The McGraw-Hill Companies, Inc. All rights reserved
interior finish
The exposed interior surfaces of a building, such as plaster or wood, or applied materials such as wallpaper, paint, or trim. Interior finishes may be classified according to an
ASTM
test for the surface burning characteristics of building materials, class A being the best and class E being the poorest in ability to resist fire propagation.
McGraw-Hill Dictionary of Architecture and Construction. Copyright © 2003 by McGraw-Hill Companies, Inc.