International style
Also found in:
Dictionary
,
Thesaurus
,
Wikipedia
.
International style
, in architecture

International style,

in architecture, the phase of the modern movement that emerged in Europe and the United States during the 1920s. The term was first used by Philip

Johnson

in connection with a 1932 architectural exhibition held at the Museum of Modern Art, New York City. Architects working in the International style gave new emphasis to the expression of structure, the lightening of mass, and the enclosure of dynamic spaces. Important examples include the

Bauhaus

at Dessau, Germany, by Walter

Gropius

(1925–26) and the Villa Savoye, Poissy-sur-Seine, France, by

Le Corbusier

(1929–30).
Bibliography
See H.-R. Hitchcock and P. Johnson, The International Style (1932, repr. 1966).
The Columbia Electronic Encyclopedia™ Copyright © 2022, Columbia University Press. Licensed from Columbia University Press. All rights reserved.
International style
(1920–1945)

A style of architecture in both Europe and America pioneered by Le Corbusier, which spread to the Bauhaus, where it was the most influential. It was characterized by an emphasis on function combined with a rejection of traditional decorative motifs and regional characteristics. It was further characterized by flat roofs, smooth and uniform surfaces, large expanses of windows and projecting or cantilevered upper floors. The complete absence of ornamentation is typical, and cubistic shapes were fashionable. White was the preferred color. Horizontality was emphasized with windows that continued around corners. Roofs without eaves terminated flush with the plane of the wall. Wood and metal casement windows were set flush to the wall as well. Sliding windows were popular, and clerestory windows were also used extensively. There were fixed panes of glass from floor to ceiling, and curtain-like walls

of glass were common. Popular building materials were reinforced concrete, steel frames, and an unprecedented use of prefabricated parts, since the style had its roots in industrial architecture. The resultant forms were much akin to cubist and abstract art.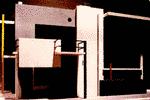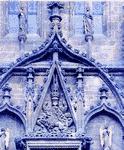 Illustrated Dictionary of Architecture Copyright © 2012, 2002, 1998 by The McGraw-Hill Companies, Inc. All rights reserved
International style
An architectural style that is minimalist in concept, devoid of regional characteristics, stresses
functionalism
, and rejects all nonessential decorative elements; it emphasizes the horizontal aspects of a building; developed during the 1920s and 1930s, in western Europe principally in the
Bauhaus
school, and also in America. Buildings in this style are usually characterized by simple geometric forms, often rectilinear, making use of reinforced concrete and steel construction with a nonstructural skin; occasionally, cylindrical surfaces; unadorned, smooth wall surfaces, typically of glass, steel, or stucco painted white; a complete absence of ornamentation and decoration; often, an entire blank wall; often a cantilevered upper floor or balcony; open interior spaces; a flat roof without a ledge; eaves that terminate at the plane of the wall; large areas of floor-to-ceiling glass or curtain walls of glass; metal window frames set flush with the exterior walls, often in horizontal bands; casement windows; sliding windows; glass-to-glass joints at the corners, without framing; plain doors that conspicuously lack decor rative detailing. Houses are commonly asymmetric; in contrast, commercial buildings in this style are not only symmetric, but appear as a series of repetitive elements.
McGraw-Hill Dictionary of Architecture and Construction. Copyright © 2003 by McGraw-Hill Companies, Inc.
International Style
, Modernism

a 20th-century architectural style characterized by undecorated rectilinear forms and the use of glass, steel, and reinforced concrete

Collins Discovery Encyclopedia, 1st edition © HarperCollins Publishers 2005