Isopleths
Also found in:
Dictionary
,
Thesaurus
,
Medical
,
Wikipedia
.
The following article is from The Great Soviet Encyclopedia (1979). It might be outdated or ideologically biased.
Isopleths
isograms on a graph, where values differing from the geographic coordinates are laid off along one or both coordinate axes. Topoisopleths and chronoisopleths are distinguished. Topoisopleths are plotted in profile with the distance from acertain point laid off on the x-axis and the height or depth, on the Y-axis. In this way it is possible to depict the distribution (for a certain moment or averaged over time) of moisture in soils, salinity and temperature of bodies of water, different characteristics of the atmosphere, and so on. Chronoisopleths are plotted on a graph with the following coordinates: time and height (depth, see Figure 1) or time and geographic latitude. In this way the changes with time (for certain elevations, depths, or latitudes) of the same factors are depicted. Chronoisopleths are also used to show changes in elements of the radiation balance, length of the day, and so on along the meridian.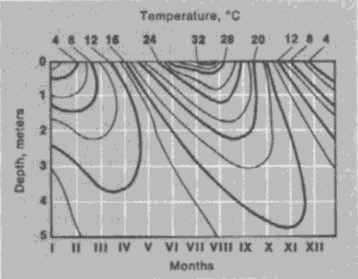 The Great Soviet Encyclopedia, 3rd Edition (1970-1979). © 2010 The Gale Group, Inc. All rights reserved.