Jacquard Attachment
The following article is from The Great Soviet Encyclopedia (1979). It might be outdated or ideologically biased.
Jacquard Attachment
an adaptation on a weaving loom for producing fabrics with large patterns of design. It is named after the French weaver and inventor J. M. Jacquard. The attachment makes it possible, when one is shedding on the loom, to control the movement of each thread or small group of threads of the warp and thus produce fabrics whose repeat consists of many threads. The Jacquard attachment makes it possible to manufacture patterned dress and decorative fabrics, carpets, and tablecloths.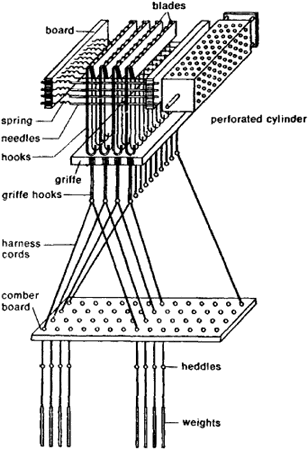 A Jacquard attachment has blades, hooks, needles, a griffe, griffe hooks, and a perforated cylinder. The warp strands, drawn through the heddle eyes, are tied to the loom by harness cords, which are threaded through a comber board for even distribution over the width of the loom. The blades, set in a blade frame, move up and down. The hooks that are near the blades are engaged by them and lifted up, and the warp strands are also lifted by the griffe hooks and harness cords to form the upper part of the shed (the warp yarn in the fabric). Hooks that are out of reach of the blades drop, together with the griffe. The hooks and the warp strands drop because they are attached to weights. The lowered strands of the warp yarn form the lower part of the shed (the woof yarn in the fabric). The hooks coming from the area of the blades' action are drawn out by needles activated by the cylinder, which in turn has a rocking and rotating motion. A piece of cardboard consisting of individual paper cards is placed on the cylinder. These cards have perforations, and when a needle comes to a perforation it enters the cylinder and the hook stays near the blade, but when a needle does not meet a perforation it is pushed back and the hook is kept away from the knife. By combining perforated and unperforated places on the cards it is possible to exercise complete control over the raising and lowering of warp strands and to form a design on the fabric.
The Great Soviet Encyclopedia, 3rd Edition (1970-1979). © 2010 The Gale Group, Inc. All rights reserved.