Jigging Machine
Also found in:
Dictionary
.
The following article is from The Great Soviet Encyclopedia (1979). It might be outdated or ideologically biased.
Jigging Machine
(also jig), a device for dressing mineral-containing ores by jigging. Depending on how the pulsations are generated, jigging machines are classified as piston, pneumatic, diaphragm, or moving-screen.
Jigging machines with moving jigging screens were known in the Middle Ages. The first piston jigging machine, the Harz jig, was used at the beginning of the 19th century to dress lead ores from deposits near Harz, Germany. In 1867 the French engineer Marceau developed a jigging machine with a mechanical drive attached to the piston, while in 1892 in Germany F. Baum invented a pistonless pneumatic jigging machine, in which pulses of water are generated by compressed air. Diaphragm jigging machines, in which pulsations within the medium are generated by a flexible diaphragm, were introduced somewhat later; these are used to enrich fines.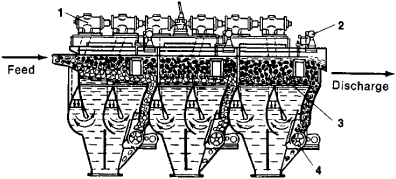 Figure 1 illustrates the working scheme of a jigging machine. The starting material moves continuously over the jigging screen and is separated into layers of different density by pulsations. The upper layers, which are the lightest, are removed from the machine by the flow of water. The heavy particles, which are concentrated in the lower layers, are removed through some type of discharge device. In some jigging machines, after fines have been dressed, particles of heavy minerals are first passed through an artificial bed, which consists of steel shot or of uniformly sized particles of specially selected heavy minerals, for example, magnetite and feldspar; subsequently, the desired heavy minerals are removed through the openings of the screen.
The capacities of automatic coal-jigging machines range from 100 to 1,000 tons per hour. Soviet-produced pneumatic jigging machines for coal are equipped with an automatic discharge device for heavy products and have próduction capacities of up to 600 tons per hour. Diaphragm and pneumatic jigs are produced for ore-dressing. Automatic pneumatic jigging machines are the most common type; they have a high production capacity, are capable of very precise separations, and are equipped with an adaptable control system for monitoring the dressing operation.
REFERENCES
See references under .
The Great Soviet Encyclopedia, 3rd Edition (1970-1979). © 2010 The Gale Group, Inc. All rights reserved.