Johnson, Philip
Johnson, Philip (Cortelyou)
(1906– ) architect and author; born in Cleveland, Ohio. His groundbreaking book, The International Style (1932, with Henry-Russell Hitchcock), coined the term and promoted the style. After studying with Walter Gropius and Marcel Breuer in the early 1940s, he designed small modernist houses and institutional buildings; in partnerships after the late 1960s, he turned to large, urban buildings that ushered in postmodernist architecture by incorporating historical references. His prescient designs and widely published writings have combined to make him uniquely influential in contemporary architecture.
Johnson, Philip
(1906–2005)

American architect. His glass house, New Canaan, CT (1949), saw the style of Mies Van der Rohe reach its ultimate development. It is a glazed box in which only the bathroom in enclosed. He designed the Seagram Building (with Mies Van der Rohe) in NYC (1958). Other works include the Museum of Modern Art additions and sculpture garden, the New York State Theater at Lincoln Center, NYC (1964), and the Kline Science Center (with Richard Foster) at Yale University, New Haven, CT (1965).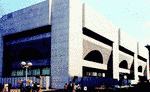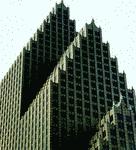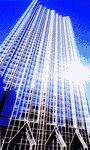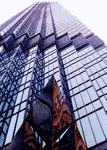 Illustrated Dictionary of Architecture Copyright © 2012, 2002, 1998 by The McGraw-Hill Companies, Inc. All rights reserved
The following article is from The Great Soviet Encyclopedia (1979). It might be outdated or ideologically biased.
Johnson, Philip
Born July 8, 1906, in Cleveland. American architect. Student and colleague of Mies van der Rohe.
Developing the principles of his teacher, Johnson built a glass home in New Canaan, Conn., in the form of a cube in 1949. He later combined contemporary architectural principles and materials with free stylizations of traditional architectural forms (neo-classical, Gothic, ancient Roman, and Near and Far Eastern medieval styles). Among Johnson's designs are the Museum of Modern Art (New York, 1951, 1965), the Amon Carter Museum of Western Art (Fort Worth, 1961), the dome of a nuclear reactor (Israel, 1960), and the State Theater at Lincoln Center (New York, 1964).
REFERENCE
Jacobus, J. Philip Johnson. London-New York, 1962.

The Great Soviet Encyclopedia, 3rd Edition (1970-1979). © 2010 The Gale Group, Inc. All rights reserved.