Journal
Also found in:
Dictionary
,
Thesaurus
,
Medical
,
Legal
,
Financial
,
Acronyms
,
Wikipedia
.
journal
1. an official record of the proceedings of a legislative body
2. the part of a shaft or axle in contact with or enclosed by a bearing
3. a plain cylindrical bearing to support a shaft or axle
Collins Discovery Encyclopedia, 1st edition © HarperCollins Publishers 2005
The following article is from The Great Soviet Encyclopedia (1979). It might be outdated or ideologically biased.
Journal
in a number of bourgeois states, an obligatory document in which a businessman (physical or juristic person) daily sets down the transactions of his business. The information in the journals reflects the business's financial position.
---
Journal
the portion of a shaft or axle that is supported by a bearing. End and end face journals are known as pivots, and journals located in the middle of a shaft are called necks. End and neck journals may be cylindrical, conical, or in some cases spherical; end face journals may consist of an annulus with a single bearing surface or sometimes a collar with several surfaces. Conical journals permit the clearance to be adjusted in a sliding bearing, and spherical journals allow substantial angular deflections of the shaft relative to the bearing. If a journal is supported by a sliding bearing or if the journal's surface is directly in contact with the rolling bodies of a ball or roller bearing, the surface of the journal must be very hard and have few irregularities if good wear resistance is to be achieved. Deviations from specification in the shape and dimensions of a journal have a major effect on the operation of the mechanism, and journals are consequently manufactured to a high degree of precision.
The Great Soviet Encyclopedia, 3rd Edition (1970-1979). © 2010 The Gale Group, Inc. All rights reserved.
journal
[

′jərn·əl

]

(mechanical engineering)

That part of a shaft or crank which is supported by and turns in a bearing.

McGraw-Hill Dictionary of Scientific & Technical Terms, 6E, Copyright © 2003 by The McGraw-Hill Companies, Inc.
blog
(1) To write and post an entry in a Weblog.

(2) (WeBLOG) A website that contains text entries in reverse chronological order (most recent entry first). Blogs cover everything from the latest news about a topic to personal journals to "ranting and raving." Written by one person or a group of contributors, entries contain commentary, observations and opinions and may include images, audio, video, links to other sites, as well as a search facility for finding past entries. As of 2020, there are more than 400 million blogs in existence, created by using services such as Wordpress, Tumblr and Blogger. See audioblog, vlog, Blogger, Tumblr and Wordpress.

Blogs may invite comments and feedback similar to the Internet newsgroup discussions that started long before the Web came about (see newsgroup). Blogs often support RSS syndication, which automatically notifies users when new blog entries are posted (see syndication feed).

More Personal, But Corporate Too
Informality and off-the-cuff opinion are what set blogs apart. The blog is often a passionate expression of one individual's thoughts, and blogs are expected to be truthful. Although ads were traditionally absent, they now appear regularly.

Companies encourage employees to write internal blogs to share knowledge, and they use public blogs to keep abreast of customer satisfaction and other issues. Customers often have great faith in employee bloggers. For example, a CEO who writes a blog may greatly enhance the company image as long as there is no hard sell.

The Blogosphere and Mainstream Media
Blogs and the major news networks often feed each other. What is published in one may be picked up in the other; however, blog commentary can become viral and spread very quickly. Depending on the situation, the "blogosphere" can be a more potent force than mainstream journalism.

Blog Software and Services
In the late 1990s, the first blogs were manually coded in HTML and uploaded to a Web server. However, when applications such as Pitas, Blogger and GrokSoup were launched in 1999, blogs took off. This template-based software made it a snap to publish a blog on the company's Web server and add entries without knowing any HTML (see blog publishing software). Soon after, blog hosting services came along that offered the same functionality on their own servers, allowing anyone to set up a free blog on the Web in minutes. A blog service is the simplest way for anyone to publish comments on the Internet (see blog service).

From Blog to Microblog to Twitter
The blog spawned the "microblog," a short blog about one's daily adventures, which evolved into the wildly successful Twitter.


The Blogosphere

After 9/11, blogs were used to convey information, thoughts and feelings faster than ever. On controversial issues, blogs can quickly reach people worldwide. The "blogosphere" (blog universe) has become such a forum for public expression that it is routinely searched for reactions and opinions. See blog network, live blogging, anonymous blog, blog ping, spider, splog, blogroll, blogvertising, blognosing, blogorrhea, blogger, War blog, cyberactivism and dooced.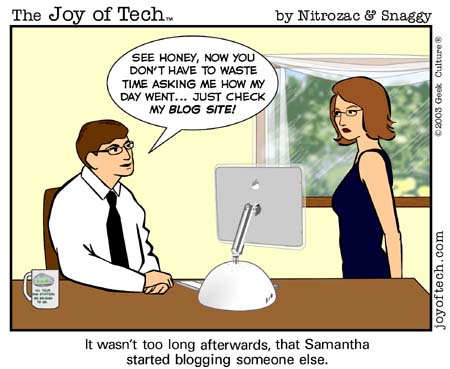 Geek Humor
From "The Best of The Joy of Tech" cartoon book by Nitrozac and Snaggy (O'Reilly & Associates, Inc., 2003). (Image courtesy of GeekCulture, www.geekculture.com)
---
log
A record of activity. See log file.

Copyright © 1981-2019 by The Computer Language Company Inc. All Rights reserved. THIS DEFINITION IS FOR PERSONAL USE ONLY. All other reproduction is strictly prohibited without permission from the publisher.