joystick
(redirected from Joy stick)
Also found in:
Dictionary
,
Thesaurus
,
Medical
.
joystick
1. Informal the control stick of an aircraft or of any of various machines
2. Computing a lever by means of which the display on a screen may be controlled used esp for games, flight simulators, etc
joystick
[

′jȯi'stik

]

(aerospace engineering)

A lever used to control the motion of an aircraft; fore-and-aft motion operates the elevators while lateral motion operates the ailerons.

(engineering)

A two-axis displacement control operated by a lever or ball, for XY positioning of a device or an electron beam.
joystick

A colloquial term for the control stick that controls the aircraft's ailerons and elevators.
joystick
(hardware, games)

A device consisting of a hand held stick that pivots about one end and transmits its angle in two dimensions to a computer. Joysticks are often used to control games, and usually have one or more push-buttons whose state can also be read by the computer. Most I/O interface cards for IBM PCs have a joystick (game control) port.
joystick
A pointing device used to move an object on screen in any direction. It employs a vertical rod mounted on a base with one or two buttons. Joysticks are used extensively in video arcade games, and they were the primary game controller on home computers during the 1980s and 90s. PCs came equipped with a port dedicated to the joystick; however, that game port is no longer used, and the joystick has given way to much more elaborate controllers with several buttons, triggers and dials. The term comes from the main control stick in a small airplane.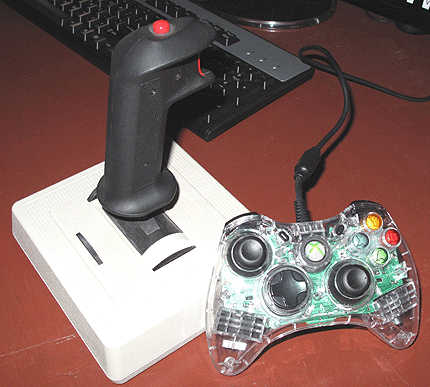 Old and New
Joysticks such as the unit on the left used to plug directly into the PC's game port. Today, gamers use Xbox controllers like the one on the right as well as far more elaborate devices, all of which plug into the USB port. See video game controller.