Kahn, Louis I.
Kahn, Louis I. (Isadore)
(1901–74) architect; born in Ösel, Estonia. He emigrated to Philadelphia with his family as a boy and graduated from the University of Pennsylvania. An important architectural theorist bridging the international style with postmodernist and rational architecture, he championed functionalism, one of his key ideas being that "servant" (structural) and "served" (activity) spaces should be esthetically integrated even if physically separate. His buildings are characterized by their emphasis on space and volume as ordering elements and on their use of daylight. Among his buildings are the Salk Institute for Biological Studies, La Jolla, Calif. (1959–65), the Kimbell Art Museum, Fort Worth, Texas (1966–72), and the Yale Center for British Art and Studies, New Haven, Conn. (1969–74). He taught architecture at Yale University (1947–57) and the University of Pennsylvania (1957–74). He was awarded the Gold Medal by the American Institute of Architects (1971).
Kahn, Louis I.
(1901–1974)

Born in Estonia, settled in the United States and became known for the monumentality, dignity and sculptural form of his buildings, include the Yale Art Gallery, New Haven, CT (1951). The Salk Institute Laboratories, San Diego, CA (1959) was an important work, as was the Kimbell Art Museum, Fort Worth, TX (1967), and the Phillips Exeter Academy Library, Exeter, NH (1967). Richards Laboratories in Philadelphia, PA (1957) has a bold silhouetting of towers. His last work was the National Assembly of Bangladesh, Dacca (1974).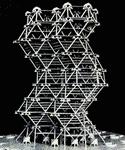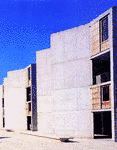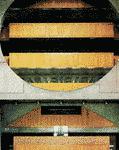 Illustrated Dictionary of Architecture Copyright © 2012, 2002, 1998 by The McGraw-Hill Companies, Inc. All rights reserved