Kenzo Tange
Also found in:
Dictionary
,
Thesaurus
,
Wikipedia
.
Kenzō Tange
Birthday
Birthplace
Osaka, Japan
Died
Nationality
Japanese
Tange, Kenzo
(kĕn`zō täng`ē)

, 1913–2005, Japanese architect. A graduate of the Univ. of Tokyo, he later taught there and at several American universities. The Hiroshima Peace Center (1949), for which Tange designed three buildings, won him international fame. Influenced by Le CorbusierLe Corbusier
, pseud. of Charles Édouard Jeanneret
, 1887–1965, French architect, b. La Chaux-de-Fonds, Switzerland. Often known simply as "Corbu," he was one of the most influential architects of the 20th cent.
.....

Click the link for more information.

, Tange was a leading creator of shell structures and planned many throughout Japan. In his design for the Shizuoka convention hall, Ehima (1953–54), a hyperbolic paraboloidal system was used to span a distance of 375 ft (114 m). Tange's later works, such as the Kagawa prefectural office (1955–58), are notable for restraint of design and the employment of the traditional Japanese aesthetic in modern technical terms. His plan for the National Indoor Stadium at Yoyogi for the 1964 Tokyo Olympics is a striking example of suspension roofing. Tange's only completed project in the United States is a 1974 expansion of the arts complex in Minneapolis. His late works include the Tokyo city hall (1991), the Fuji Television Building, Tokyo (1996), and the Singapore National Library (1998). Tange was awarded the 1987 Pritzker PrizePritzker Prize,
officially The Pritzker Architecture Prize
, award for excellence in architecture, given annually since 1979. Largely modeled on the Nobel Prize, it is the premier architectural award in the United States and is named for the family that founded the
.....

Click the link for more information.

.
Bibliography
See studies by R. Boyd (1962) and U. Kultermann, ed. (1970); Kenzo Tange 1946–1996 (1997).
The Columbia Electronic Encyclopedia™ Copyright © 2013, Columbia University Press. Licensed from Columbia University Press. All rights reserved.
www.cc.columbia.edu/cu/cup/
Tange, Kenzo
(1913–2005)

He came from Kunio Mayekawa's office and was influenced by Le Corbusier, but drew on Japanese themes. The Hiroshima Peace Center and Museum (1955) was his first major project, followed by St. Mary's Cathedral, Tokyo (1961). Later work includes the gymnasium for the Tokyo Olympics (illus.) Tokyo, Japan (1964), covered by a gigantic tensile catenary roof structure, and Tokyo City Hall (1991).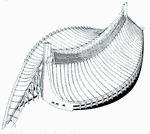 Illustrated Dictionary of Architecture Copyright © 2012, 2002, 1998 by The McGraw-Hill Companies, Inc. All rights reserved