Ketogenic Bacteria
The following article is from The Great Soviet Encyclopedia (1979). It might be outdated or ideologically biased.
Ketogenic Bacteria
representatives of genus Acetobacter that oxidize secondary alcohol groups to ketogroups.
When a culture of ketogenic bacteria is grown on a nutritive medium with 2 percent glycerol, the secondary alcohol group is oxidized to form dioxyacetone: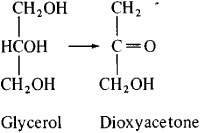 Ketogenic bacteria may oxidize glucose to gluconic acid and gluconic acid to 5-ketogluconic acid. This is not characteristic of other representatives of Acetobacter. The group includes Aceto-bacter suboxydans and A. melanogenus. In the industrial production of vitamin C, Acetobacter suboxydans oxidizes the alcohol sorbitol to sorbose (one of the stages in the synthesis of vitamin C).
The Great Soviet Encyclopedia, 3rd Edition (1970-1979). © 2010 The Gale Group, Inc. All rights reserved.