Ketogenic Bacteria
Ketogenic Bacteria
representatives of genus Acetobacter that oxidize secondary alcohol groups to ketogroups.
When a culture of ketogenic bacteria is grown on a nutritive medium with 2 percent glycerol, the secondary alcohol group is oxidized to form dioxyacetone: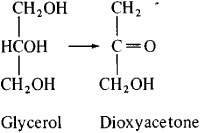 Ketogenic bacteria may oxidize glucose to gluconic acid and gluconic acid to 5-ketogluconic acid. This is not characteristic of other representatives of Acetobacter. The group includes Aceto-bacter suboxydans and A. melanogenus. In the industrial production of vitamin C, Acetobacter suboxydans oxidizes the alcohol sorbitol to sorbose (one of the stages in the synthesis of vitamin C).