khan
(redirected from Khaqan)
Also found in:
Dictionary
,
Thesaurus
,
Financial
.
khan
1.
a. (formerly) a title borne by medieval Chinese emperors and Mongol and Turkic rulers: usually added to a name
b. such a ruler
2. a title of respect borne by important personages in Afghanistan and central Asia
Collins Discovery Encyclopedia, 1st edition © HarperCollins Publishers 2005
Khan
(pop culture)

Earth's history is replete with conquerors and tyrants whose power, audacity, and charisma arguably qualify them for supervillain status. But once superhuman abilities are added to the mix, supervillainy is all but assured. In the fictional "future historical" backstory established in television's original Star Trek series (NBC, 1966–1969), Khan Noonien Singh is one of the world's most influential despots, a man whose extraordinary ambitions had a profound cautionary effect on the development of the show's Utopian United Federation of Planets—which the 1990s spin-off series Star Trek: Deep Space Nine depicts as resolutely determined never to allow Khan's crimes to be repeated ("Doctor Bashir, I Presume?" broadcast in 1997). Created by television scenarists Gene L. Coon and Carey Wilbur for the first-season Star Trek episode "Space Seed"—and played to histrionic perfection by Ricardo Montalban—Khan is a Sikh born in India's Punjab region around 1970. Khan is an "Augment," gifted with enhanced strength and intellect—as well as a love for such classic authors as Melville, Milton, and Shakespeare—by Project Chrysalis, a covert human genetic engineering program masterminded by bioscientist Sarina Kaur (his mother). The young Khan becomes absolute ruler of most of Asia by 1992, gaining dominion over roughly one-quarter of Earth's population. Along with hundreds of his fellow DNA-enhanced, power-hungry supermen and superwomen—many of whom violently oppose one another, as well as the world's conventional powers—Khan becomes a central figure in the so-called "Eugenics Wars" of the 1990s, a bloody period that concludes in 1996 with the deaths of most of the Augments. Unknown to almost everyone on Earth, Khan and some eighty acolyte Augments agree to go into exile aboard a prototype DY-100 "sleeper ship." Naming the experimental vessel the S.S. Botany Bay after the eighteenth-century Australian penal colony, Khan and his people head for the stars in suspended animation, seeking new worlds to conquer. Nearly three centuries later, the crew of the U.S.S. Enterprise discovers the Botany Bay adrift in the Mutara Sector, and Captain James T. Kirk (William Shatner) brings a revived Khan aboard his starship. "There's something inside this man that refuses to accept death," Dr. Leonard H. McCoy (DeForrest Kelley) observes, surprised by Khan's amazing strength and recuperative powers. Shortly after Kirk discovers Khan's identity, Khan and his people seize the Enterprise, thanks to the collaboration of Lieutenant Marla McGivers, the starship's historian, who has become infatuated with the dashing conqueror. After Kirk defeats Khan, prevents him from blowing up the ship, and arrests all the Augments and Lieutenant McGivers, he grants them the dignity of exile on the harshbut- habitable planet Ceti Alpha V; Kirk has already admitted, after all, to harboring a sneaking admiration for Khan, to the incredulous horror of Commander Spock (Leonard Nimoy), Kirk's first officer and best friend. "It is better to rule in Hell than serve in Heaven," Kirk comments, misquoting John Milton's Paradise Lost ("Better to reign in Hell than serve in Heaven") after seeing Khan's eagerness to tame a new world alongside his followers and his new wife (McGivers) ("Space Seed"). Six months after arriving on Ceti Alpha V, the neighboring world (Ceti Alpha VI) explodes, apparently the victim of a freak singularity encounter. "The shock shifted the orbit of this planet, and everything was laid waste!" a gray-haired, vengeance-crazed Khan explains fifteen local years later to Captain Clark Terrell (Paul Winfield) and Commander Pavel A. Chekov (Walter Koenig), who have come seeking a suitable test-site for Project Genesis, a prototype terraforming device with horrific destructive power if misused. Determined to find and kill Kirk (now a Starfleet admiral) for stranding him on the world that took the lives of his beloved wife and most of his people, Khan uses the mind-controlling properties of a local lifeform (the madness-inducing Ceti eels) to hijack Terrell's starship, the U.S.S. Reliant, then steals the Genesis device, savagely murdering most of the scientists who developed it. After engaging Kirk in an intense ship-to-ship battle, Khan's superior intellect once again fails to overcome Kirk, a man who has made a career of surviving against impossible odds. His commandeered ship wrecked, his young protégé Joaquim (Judson Scott) dead, Khan quotes the dying words of Herman Melville's Captain Ahab, a man who, like Khan himself, has become defined by his drive for revenge: "From Hell's heart I stab at thee. For hate's sake I spit my last breath at thee." A man fond of grand, fatal gestures—according to Greg Cox's novel Star Trek: The Eugenics Wars Volume 2: The Rise and Fall of Khan Noonien Singh (2002), Khan was directly responsible for the creation of the hole in Earth's ozone layer, and once made plans to unleash flesh-eating bacteria as a global doomsday weapon—Khan detonates the Genesis device, vaporizing the Reliant and indirectly causing the death of Captain Spock (Star Trek II: The Wrath of Khan, 1982). Fortunately, Spock gets better (Star Trek III: The Search for Spock, 1984) and accompanies Kirk and Dr. McCoy back to Ceti Alpha V two years after Khan's death. There they find the remains of the late Lieutenant McGivers, which they give a proper interment, and the journals of both McGivers and Khan; they also discover an anti- Khan splinter group consisting of the offspring of some of the original genetically engineered exiles who had turned away from Khan years earlier. By relocating the surviving second-generation Augments to a suitable new home (a colony of similarly genetically engineered individuals) and reading the diaries, Kirk deals with his own culpability in Khan's latter-day crimes—he never bothered to check on Khan's status after exiling him, after all— and puts Khan's ambitious, tragic spirit at last to rest (Star Trek: To Reign in Hell—The Exile of Khan Noonien Singh by Greg Cox, 2005). Long a favorite villain of Star Trek aficionados, Khan moved into the pop-cultural mainstream when Dana Carvey lampooned him in a memorable 1986 Saturday Night Live (SNL) segment guest-hosted by William Shatner, who played a retired Kirk who has converted the Enterprise into a seafood restaurant called "Cap'n Kirk's." A white-haired and wild-eyed Khan (Carvey) is now a visiting health inspector—"There's no sneeze-guard on your salad bar, Kirk!" he snarls in an accent reeking of rich, Corinthian leather—whose desire for vengeance against Kirk remains undiminished. Spoofed by the SNL cast, Khan's immortality seems assured.

The Supervillain Book: The Evil Side of Comics and Hollywood © 2006 Visible Ink Press®. All rights reserved.
The following article is from The Great Soviet Encyclopedia (1979). It might be outdated or ideologically biased.
Khan
a Turkic and Mongol title. It was first used to designate the chief of a tribe—for example, among the nomads of Persia and Afghanistan. "Khan" became a princely title under the Seljuks and the Khwarazm-Shahs. A khan was the ruler of an ulus (Tatar settlement) in the 13th- and 14th-century Mongolian Empire; it was the title given to the sultan in the Ottoman Empire, and to the sovereigns of the various states formed after the breakup of the Mongolian Empire. In Persia, under the Safavids, a khan was the ruler of a province; "khan" was also one of the titles of the feudal military elite.
The Great Soviet Encyclopedia, 3rd Edition (1970-1979). © 2010 The Gale Group, Inc. All rights reserved.
caravansary, caravanserai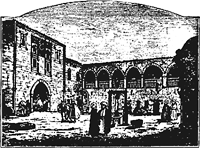 1.In the middle east, a building or inn for the overnight lodging of travelers by caravan; usually enclosed by a solid wall and entered through a large gate.
2. By extension, any large inn or hotel.
McGraw-Hill Dictionary of Architecture and Construction. Copyright © 2003 by McGraw-Hill Companies, Inc.