Knorr Reactions
The following article is from The Great Soviet Encyclopedia (1979). It might be outdated or ideologically biased.
Knorr Reactions
methods of synthesizing nitrogen-containing heterocyclic compounds.
(1) Preparation of 2-hydroxyquinolines by the intramolecular condensation of β-ketocarboxylic acid arylamides in the presence of sulfuric acid: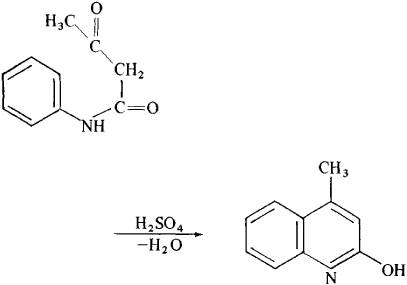 (2) Synthesis of 5-pyrazolones by the condensation of β-keto acid esters with hydrazines: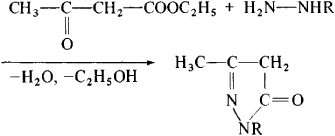 (3) Preparation of pyrroles by the condensation of α-amino ketones with ketones containing an active methylene group:

(4) Preparation of pyrroles from γ-diketones and ammonia or primary amines:

The Knorr reactions are used in organic synthesis, both in the laboratory and in industry, particularly for the preparation of medicinal substances (for example, antipyrine, amidopyrine, analgin) and dyes (quinoline-cyanine dyes, pyrazolone dyes). The reactions were developed by the German chemist L. Knorr beginning in 1884.
REFERENCE
Geterotsiklicheskie soedineniia, vols. 1–2. Edited by R. Elderfield. Moscow, 1953–54. (Translated from English.)
The Great Soviet Encyclopedia, 3rd Edition (1970-1979). © 2010 The Gale Group, Inc. All rights reserved.