Kolbe Reaction
The following article is from The Great Soviet Encyclopedia (1979). It might be outdated or ideologically biased.
Kolbe Reaction
a method of obtaining hydrocarbons by the electrolysis of solutions of the salts of carboxylic acids (electrochemical synthesis):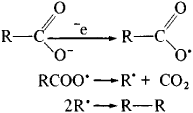 In the electrolysis of a mixture of salts of different acids, nonsymmetrical hydrocarbons (R-R') are formed in addition to the symmetrical hydrocarbons (R-R and R'-R'). The Kolbe reaction permits us to obtain long-chain monocarboxylic (1) and dicarboxylic (2) acids (after hydrolysis of the corresponding esters):
RCOO- + R'OOC(CH2)n COO-→R(CH2)n COOR' 2ROOC(CH2)n COO-→ROOC(CH2)n COOR
The Kolbe reaction is used in industry, for example, to obtain sebacic acid, which is used in the production of polyamides and aromatic substances. The reaction was proposed by the German chemist A. W. H. Kolbe in 1849.
REFERENCES
Surrey, A. Spravochnik po organicheskim reaktsiiam. Moscow, 1962. (Translated from English.)
Advances in Organic Chemistry, vol. 1. New York, 1960. Pages 1–34.
The Great Soviet Encyclopedia, 3rd Edition (1970-1979). © 2010 The Gale Group, Inc. All rights reserved.