L'Enfant, Pierre Charles
L'Enfant, Pierre Charles
(pyĕr shärl läNfäN`)

, 1754–1825, American soldier, engineer, and architect. Born in France, he volunteered as a private in the American Revolution. He won Gen. Washington's attention with his design for the insignia of the Society of the Cincinnati. L'Enfant had remodeled the New York City city hall to serve as a temporary seat of federal government when he was asked (1789) by Washington to submit plans for the capital city at Washington. His plans were presented in 1791, but he antagonized Congress and was opposed by Thomas Jefferson. In 1792 he was dismissed. He was offered in payment of his services 500 guineas and a lot in Washington, which he refused. In 1889, L'Enfant's plans were exhumed from the archives, and in 1901 the design of the capital was developed along the lines that he had laid down. L'Enfant's body was moved to the Arlington National Cemetery in 1909.
Bibliography
See biography by H. L. Caemmerer (1950).
The Columbia Electronic Encyclopedia™ Copyright © 2013, Columbia University Press. Licensed from Columbia University Press. All rights reserved.
www.cc.columbia.edu/cu/cup/
L'Enfant, Pierre Charles
(1754–1825)

Designed the city plan for Washington, DC.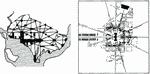 Illustrated Dictionary of Architecture Copyright © 2012, 2002, 1998 by The McGraw-Hill Companies, Inc. All rights reserved
L'Enfant, Pierre Charles
(1754–1825) architect, city planner; born in Paris, France. He trained as an artist at the Royal Academy of Painting and Sculpture, Paris, and came to America in 1777 to fight the British in the American Revolution. In New York after 1786, he designed ceremonial and monumental works, introducing symbolic and allegorical European decorative motifs to America; he remodeled Federal Hall (1788–89), where Washington took the presidential oath. At George Washington's invitation he submitted a plan (1791) for the new federal capital in the District of Columbia; its integration of the natural features of the site and the symbolism and placement of the major buildings made it an influential model of urban planning and helped popularize the Federal style. Although L'Enfant's output was modest and he spent his last years in straitened circumstances, his plan for the capital assured his reputation for posterity.