LAN-free backup
Also found in:
Dictionary
,
Thesaurus
,
Medical
,
Wikipedia
.
LAN-free backup
Performing backup without wasting bandwidth by transferring the data over the LAN or WAN. The simplest LAN-free architecture is a server or a NAS device with backup storage directly attached. Another approach is to use a SAN that connects the disks and backup storage via a Fibre Channel switch. The operation is managed by a backup server. See backup and NAS.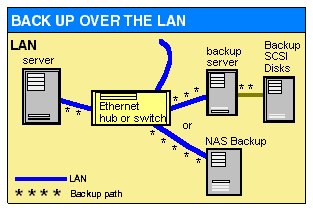 Not LAN Free
In small companies, it is common to back up data over the LAN.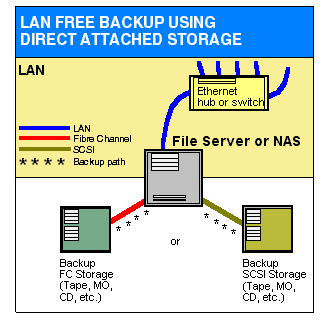 Direct Attached LAN Free
If servers and NAS devices are connected to backup storage, the LAN is not impacted, but the servers and NAS devices must perform backup and serve users at the same time.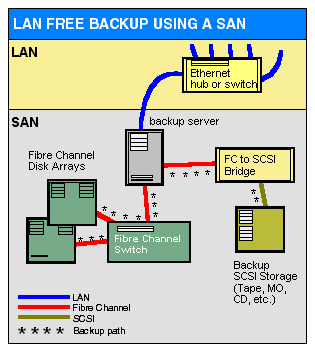 LAN Free Using a SAN
A SAN provides high-speed backup because Fibre Channel connections between storage and backup are very fast. Data are often staged so that users and backup are not competing with each other.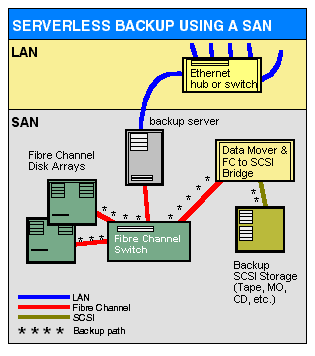 A Variation of LAN Free Using a SAN
This method uses a "data mover" to manage the backup and provide Fibre Channel to SCSI conversion. The backup server initiates, and the data mover takes over. The ATTO data mover (bottom) is available in board versions that vendors can embed into the backup storage itself. (Image courtesy of ATTO Technology, Inc., www.attotech.com)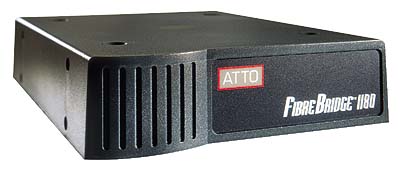 A Variation of LAN Free Using a SAN
This method uses a "data mover" to manage the backup and provide Fibre Channel to SCSI conversion. The backup server initiates, and the data mover takes over. The ATTO data mover (bottom) is available in board versions that vendors can embed into the backup storage itself. (Image courtesy of ATTO Technology, Inc., www.attotech.com)