LCD types
Also found in:
Dictionary
,
Thesaurus
,
Medical
,
Financial
.
LCD types
LCD screens come in passive and active technologies, which are explained in this definition. For details about how liquid crystals work, see LCD subpixels for color screens and seven-segment display for monochrome.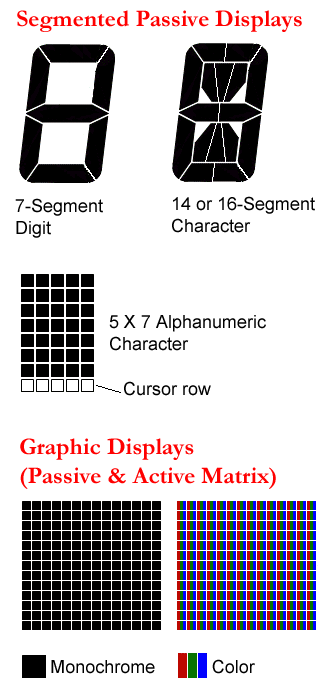 LCD Display Types
Segmented characters (top) are used for small readouts, while the 5x7 matrix (middle) provides more character design flexibility. TVs, computer screens and mobiles use a matrix of thousands of rows and columns (bottom). In both active and passive methods, the matrix is addressed one row at a time for each frame. (Images courtesy of Ralph Sabroff of Varitronix, www.varitronix.com)
Passive Displays


Passive displays are widely used with segmented digits and characters for small readouts in devices such as calculators, printers and remote controls, many of which are monochrome or have only a few colors. Passive monochrome and color graphics displays were used in the first laptops, and they are still used as an alternative to active matrix.

Passive matrix is less costly because transistors are used to activate rows and columns, not each subpixel, resulting in fewer manufacturing steps (see Active Matrix Displays below). However, passive matrix screens have a narrower viewing angle and suffer from "submarining," which is the disappearance of the cursor when moved quickly.

TN - Twisted Nematic (90º Twist)
The first LCD type, TN is used in low-cost readouts for consumer products, and it is also the foundation for color active matrix (see below).

STN- Supertwisted Nematic (240-270º Twist)
Widely used in the past, STN LCDs use birefringence to absorb and pass selective light wavelengths.

FSTN - "Film Compensated" STN
Widely used for passive color matrix screens, an optical film layer turns the STN color into a neutral density light source (a "light valve"). Red, green and blue filters are added for full color.

DSTN - "Double Layer" STN
Used in high-temperature environments, a second, but inactive, LCD layer functions like the film in FSTN, except that the layer's optical properties change at the same rate as the working layer. DSTN used to mean "dual scan" STN, which enabled higher laptop resolution by addressing two modules simultaneously; for example, two 240-line passive matrix subsystems created 480 lines.

ESTN and ISTN
Proprietary STN displays from Varitronix. See ESTN and ISTN.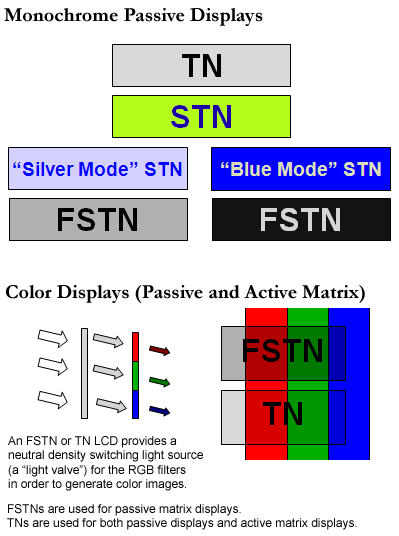 LCD Screen Colors
Passive displays are monochrome TN, STN and FSTN, and passive color displays are TN and FSTN. Active matrix displays are color TN. (Image courtesy of Ralph Sabroff of Varitronix, www.varitronix.com.)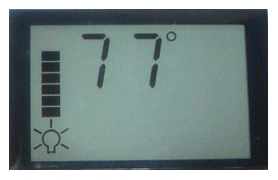 Custom Design
Passive displays are created for custom applications. This ceiling fan readout uses segmented digits for temperature and custom elements for the lights.
Active Matrix Displays (TFTs)


Unlike passive matrix LCDs, active matrix displays have a transistor at each red, green and blue subpixel that keeps them at the desired intensity until that row is addressed in the next frame.

More Contrast, Sharper, Faster and Brighter
By driving the subpixels independently, active matrix screens are sharper and have more contrast than passive matrix, and their faster response times eliminate submarining. In addition, active matrix screens are very bright indoors because they use a backlight (see LCD and LCD subpixels); witness the extraordinary computer screens and HDTV sets on the market. However, when active matrix cellphones and laptops are taken into bright sunlight, they can be overwhelmed with reflected ambient light and difficult to read.

High-End Displays Are Active Matrix
In the early days of laptops, active matrix cost a lot more than passive, and both types were offered. Today, color active matrix is the only type of LCD used in LCD/LED TVs, computer and LCD mobile screens. Also called a "thin film transistor LCD" (TFT LCD), a thin layer of transistors is deposited on the back of the screen (see amorphous silicon). Active matrix uses TN liquid crystals with a 90º twist. See bad pixel and LCD.

Copyright © 1981-2019 by The Computer Language Company Inc. All Rights reserved. THIS DEFINITION IS FOR PERSONAL USE ONLY. All other reproduction is strictly prohibited without permission from the publisher.