LED
Also found in:
Dictionary
,
Thesaurus
,
Medical
,
Financial
,
Acronyms
,
Idioms
,
Wikipedia
.
LED,
light-emitting diode. See diodediode
, two-terminal electronic device that permits current flow predominantly in only one direction. Most diodes are semiconductor devices; diode electron tubes are now used only for a few specialized applications.
.....

Click the link for more information.

.
Led'
a river in Arkhangel'sk Oblast, RSFSR, a left tributary of the Vaga (Severnaia Dvina basin). Length, 184 km; basin area, 2,690 sq km. It originates from a lake, Letozero, and is very meandering. The Led' is fed primarily by snow. The mean flow rate 42 km from the mouth is 16.7 cu m per sec. The Led' freezes in late October or in November, thawing in late April or May. It is used for floating timber. Fish are abundant.
light-emitting diode
A solid-state device (diode) that emits light of a single primary color, but in combination with other diodes can produce colors of any hue for use in signage. These devices, each of which is about one centimeter (half-inch), have a remarkably long life. Also called an LED.
LED
(Light Emitting Diode) A display and lighting technology used in almost every electrical and electronic product on the market, from a tiny on/off light to digital readouts, flashlights, traffic lights and perimeter lighting. LEDs are also used as the light source in multimode fibers, optical mice and laser-class printers. See LED lightbulb.

LEDs vs. LCDs
In the early 1970s, red LEDs were used in the first digital watches, but were superseded by lower-power LCDs within a few years. LEDs still use more power than LCDs, but less power than incandescent bulbs. They also last for decades and are virtually indestructible.

LEDs and LCDs coexist on countless devices where the LEDs provide the status lights, and the LCDs display data. In addition, white or red, green and blue LEDs are used as the backlight source on many LCD TV sets. See LCD, LED TV and flat panel TV.

Several Colors
LEDs are semiconductor diodes that typically emit a single wavelength of light when charged with electricity. Originally red, today, several colors can be generated based on the material used for the tips of the probes. Aluminum indium gallium phosphide (AlInGaP) is used for red and yellow. Indium gallium nitride (InGaN) is used for green and blue, and with the addition of phosphor, for white light as well. See digital billboard, OLED, IRED, LED printer, fiber optics glossary and Nixie tube.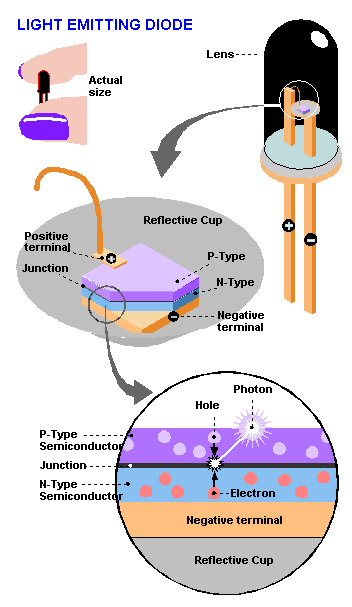 An LED Unit
The LED is the semiconductor die, which sits in a reflective cup that is also a heat sink. Voltage is applied to the LED, and electrons and holes in the two semiconductor layers are attracted to each other at the junction. When they combine, photons are created.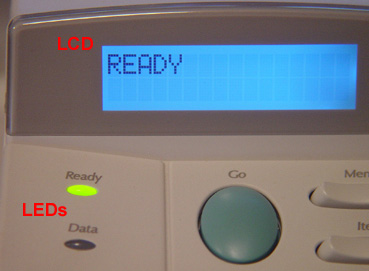 LEDs and LCDs Are Used Together
Small alphanumeric readouts can be LED or LCD, but the indicator lights on countless products are LEDs.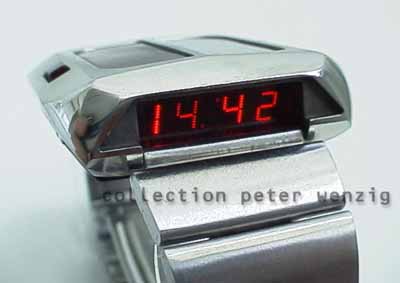 First LED Watch
The Synchronar 2100 was the first LED watch and the first solar powered watch. It preceded Hamilton's famous Pulsar LED watch in 1970. (Image courtesy of the private collection of Peter Wenzig.)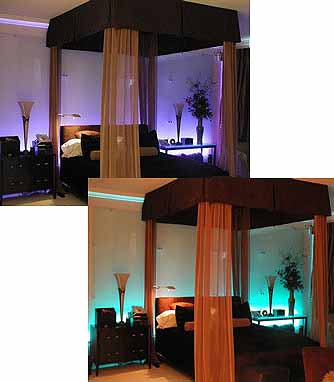 LEDs Offer Flexibility
A flick of a switch changes the ambience in this Los Angeles bedroom (top), while the Westin Hotel staircase in Shanghai (bottom) cycles colors or becomes a musical light show. (Images courtesy of Color Kinetics, Inc., Bedroom design and photo by Steven Cordrey. Staircase by Light Directions Hong Kong, photo by Friendly Light.)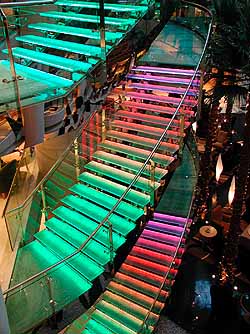 LEDs Offer Flexibility
A flick of a switch changes the ambience in this Los Angeles bedroom (top), while the Westin Hotel staircase in Shanghai (bottom) cycles colors or becomes a musical light show. (Images courtesy of Color Kinetics, Inc., Bedroom design and photo by Steven Cordrey. Staircase by Light Directions Hong Kong, photo by Friendly Light.)