LED TV
(redirected from LED HDTV)
LED TV
A flat panel LCD TV set that uses LEDs (light emitting diodes) for its backlight source rather than the earlier cold cathode fluorescent lamps (see CCFL). Smaller, more power efficient and having a greater optical range than the fluorescents, LED TVs produce deeper blacks and more saturated color. In 2005, Sony offered the first LED TV.

Although an LED TV is really an LCD TV with LED backlighting, the industry branded them as LED TVs to avoid monikers such as "LED backlit TV" or "LED-based LCD TV." Today, most TV sets are LED TVs.

White or RGB
White LEDs are less costly, while red, green and blue (RGB) LEDs provide a richer color gamut.

Backlights: Direct Lit, Edge Lit and Full Array
There are three "local dimming" backlight techniques for LED TVs, all of which dynamically dim the light behind the black areas of the image to make them darker.

The more economical direct-lit method uses LEDs in a sparse array across the back. Because the LEDs are farther away from the screen to allow each light to spread to more pixels, direct-lit TVs are as thick as the older CCFL fluorescent lamp LCD TVs.

Edge-lit LED TVs beam light to the back of the screen from the sides and allow for ultra-thin cases. Although some designs provide selective dimming, they are not as effective as the full array. In addition, they have a tendency to be brighter at the edges than at the center.

The full array covers the entire back of the screen with LEDs. Although the case is thicker than edge-lit designs, the full array provides better details in shadows and more contrast than the other methods. See ULED, LED, OLED, LCD, flat panel TV and Dolby HDR.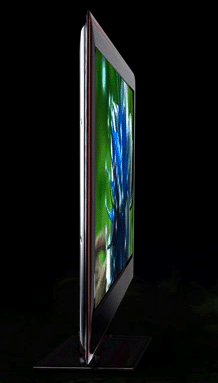 A 55" Samsung LED TV
Using edge-lit LEDs, this Samsung TV was only 1.2" deep in 2008; amazingly thin compared to previous LCD TVs. (Image courtesy of Samsung Electronics Company, Ltd., www.samsung.com)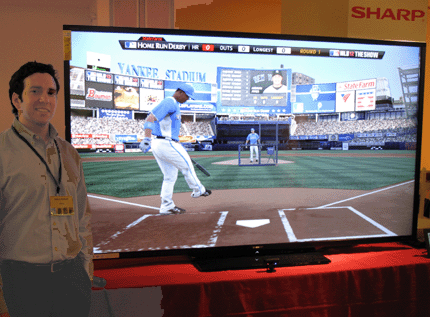 More Than Six Feet Wide
In 2012, Sharp introduced a 90" smart LED TV, the world's largest. The 3D set included apps for Netflix, Hulu and other services with Wi-Fi built in. In 2013, Samsung bested this with a 95" model.
Copyright © 1981-2019 by The Computer Language Company Inc. All Rights reserved. THIS DEFINITION IS FOR PERSONAL USE ONLY. All other reproduction is strictly prohibited without permission from the publisher.