optical mouse
(redirected from LED mouse)
Also found in:
Dictionary
.
optical mouse
[

′äp·tə·kəl ′mau̇s

]

(computer science)

A mouse that emits a light signal and uses its reflection from a reflective grid to determine position and movement.
optical mouse
(hardware)

Any kind of

mouse

that uses visible light or infrared to detect changes in its position.
optical mouse
A mouse that uses light to detect movement. Introduced in the late 1990s, optical mice superseded mechanical mice because their sealed bottom surfaces have no mechanical parts to absorb dust and dirt. They work by emitting light from an LED or laser, and a CMOS sensor detects the light reflections as the mouse is moved.

Early optical mice required a special mouse pad, but modern devices can be rolled over traditional pads, as well as over almost any surface other than glass or mirror. Laser-driven mice are even more tolerant of their surface than LED mice. Contrast with mechanical mouse.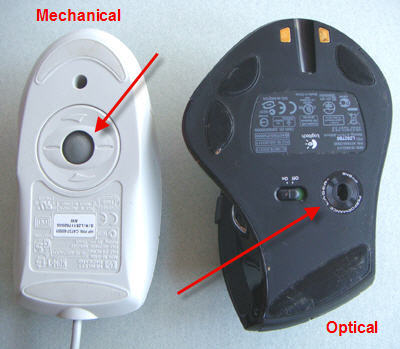 Open Vs. Sealed
The rubber ball in the mechanical mouse causes dirt to collect inside. It must be removed, and the internal contacts must be cleaned periodically. Optical mice eliminated this requirement because their undersides are sealed. The arrow on this optical mouse points to the 848 nm laser.