LED printer
Also found in:
Dictionary
,
Thesaurus
,
Medical
,
Financial
,
Wikipedia
.
Related to LED printer:
LCD printer
LED printer
(printer)

(Or "LED page printer") A printer which is similar in operation to a

laser printer

, but where an array of LEDs is used in place of the laser.
LED printer
An electrophotographic printer that uses a matrix of LEDs as its light source. The LED mechanism is much simpler than its laser printer counterpart. A stationary array of LEDs is used instead of numerous moving parts, and the LEDs are selectively beamed onto the drum. LED printers are available from inexpensive personal printers to huge digital printing presses that print more than 700 pages per minute (ppm). See LED.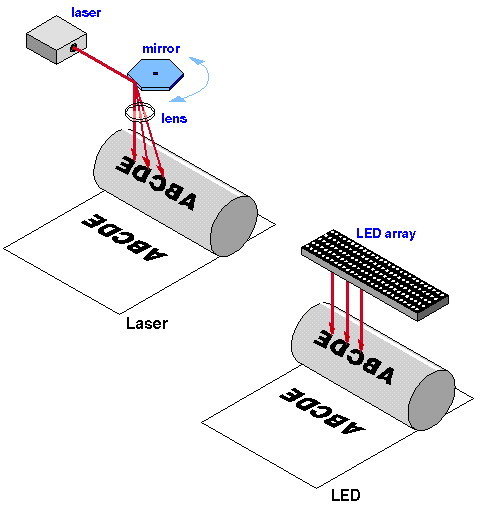 LED Vs. Laser Printing
The LED mechanism is much simpler, because it is a stationary array of light emitting diodes (LEDs) rather than a number of moving parts.
Personal LED Printer
One of the first LED printers, the OKIPAGE 4w was introduced in 1996 at a breakthrough low price of USD $299. At 4 ppm, it printed a respectable 600 dpi. (Image courtesy of Okidata.)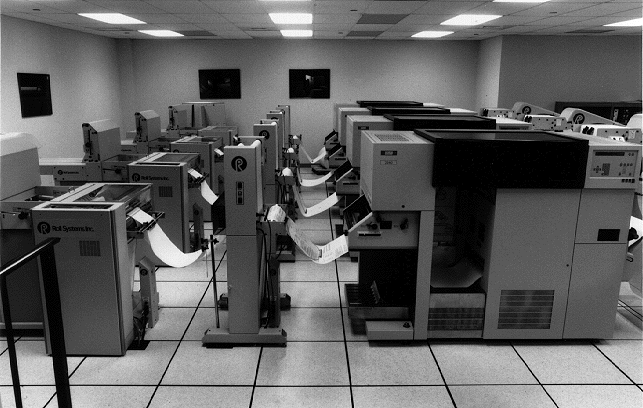 High-Speed LED Printer
These earlier Oce digital printing presses used LEDs to print up to 420 ppm at 300 dpi on continuous forms or roll-fed paper. With a 17" LED array, two letter-sized pages were printed simultaneously. (Image courtesy of Oce Printing Systems USA, Inc.)