LP
(redirected from LPES)
Also found in:
Dictionary
,
Thesaurus
,
Medical
,
Financial
,
Acronyms
.
LP
1.
a. a long-playing gramophone record: usually one 12 inches (30 cm) or 10 inches (25 cm) in diameter, designed to rotate at 33⅓ revolutions per minute
b. (as modifier): an LP sleeve
2. long play: a slow-recording facility on a VCR which allows twice the length of material to be recorded on a tape from that of standard play
Collins Discovery Encyclopedia, 1st edition © HarperCollins Publishers 2005
LP
On drawings, abbr. for "low pressure."
McGraw-Hill Dictionary of Architecture and Construction. Copyright © 2003 by McGraw-Hill Companies, Inc.
LP
(1) (Let's Play) See playthrough.

(2) (Long Play) A vinyl recording of music in analog format that rotates at 33 1/3 RPM (for details of the analog method, see vinyl record). Mono LPs were introduced in the late 1940s, and stereo LPs in 1958. Two-channel stereo was accomplished by creating a V groove with left and right channels at 90 degree angles. The "long" play refers to the slower 33.3 RPM compared to 78 RPM records. The slower rotation increased the recording time per side from five minutes on a 78 to a half hour for the LP. Made of shellac resin, 78 records were brittle and easily breakable, but they were the primary music disc from the start of the 20th century until the late 1950s. The vinyl construction of the LP made it much more durable. Vinyl was also used for 45 RPM records, which were introduced in the late 1940s.

A Definite Revival
Although eclipsed by CDs in the 1980s, vinyl LPs have been making a comeback in the 21st century, and many individuals cling to their vinyl record collections. A large number of LP phonograph turntables, both consumer grade and high-end audiophile quality, are being manufactured. After years of listening to digital music, which many people feel is much harsher than analog, aficionados continue to enjoy vinyl recordings. See vinyl record, stylus, turntable and Burwen Bobcat.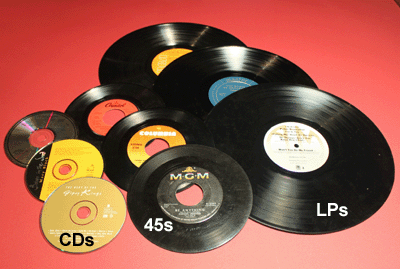 From Analog to Digital
The analog 33 RPM long play (LP) vinyl record holds an album of songs just like the digital CD. The analog 45 RPM platter contains one song per side.
Copyright © 1981-2019 by The Computer Language Company Inc. All Rights reserved. THIS DEFINITION IS FOR PERSONAL USE ONLY. All other reproduction is strictly prohibited without permission from the publisher.