Lactams
Also found in:
Dictionary
,
Medical
.
The following article is from The Great Soviet Encyclopedia (1979). It might be outdated or ideologically biased.
Lactams
internal cyclic amides of amino carboxylic acids that contain a —CO—NH— group in the ring (I). The tautomeric, enol form of lactam is known as lactim (II):

Lactams are classified as β-, γ-, δ-, ε-, and so forth according to the type of amino carboxylic acids included in their composition, for example, β-propiolactam (III; melting point, 73°-74°C), γ-butyrolactam (IV; melting point, 24.6°C), and ε-caprolactam (V; melting point, 68°-69°C):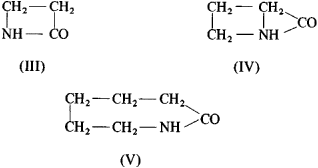 Lactams are primarily obtained by the cyclization of amino carboxylic acids or their derivatives [Y—(CH2)nNH2, where Y = COOH, COOR, CONH2, CN], as well as by the cyclization of amides of halogen carboxylic or hydroxycarboxylic acid [X—(CH2)nCONHR, where X = OH or a halogen]. An important method of obtaining lactam is the Beckmann rearrangement of cyclic ketoximes, which is used in the industrial preparation of ε-caprolactam.
Lactams readily undergo alkylation, acylation, and halogena-tion with retention of the ring. The lactam ring, however, is opened at the —CO—NH—bond during hydrolysis, ammonolysis, hydrogenolysis, and polymerization. For example, ε-caprolactam polymerization yields polycaproamide, from which nylon 6 fiber is made. Many lactams are biologically active substances (for example, a molecule of penicillin contains a β-propiolactam residue).
The Great Soviet Encyclopedia, 3rd Edition (1970-1979). © 2010 The Gale Group, Inc. All rights reserved.