Latticework
Also found in:
Dictionary
,
Thesaurus
,
Medical
,
Wikipedia
.
Latticework
Reticulated or netlike work formed by the crossing of laths or thin strips of wood or iron, usually in a diagonal pattern.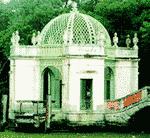 Latticework
a structure that consists of straight bars joined by node connections. Latticework is used primarily for the supporting members of a building and in engineering structures, such as bridges, radio-relay towers, and supports for power lines. The principal advantage of latticed structures over solid-wall construction is the negligible weight of the structures, especially in long spans.
Depending on the support principle involved, latticed structures are classified as planar, as in arches, frames, and trusses, or three-dimensional, as in crossbar or cross-ribbed slabs, cupolas, and vaults. They may be constructed of metal, reinforced concrete, wood, plastic, or combinations of different materials, for example, reinforced concrete and metal or wood and metal. Latticed structures may also be classified according to the nature of the nodes: whether they are joined through intermediate elements, such as gusset plates, bushings, flanges, and connectors, or whether they are joined together directly in a gussetless lattice. In structures with metal lattices, the bars are fabricated from tubing, angle irons, and channels and from welded and bent shapes. In structures with reinforced concrete or wood lattices, these elements usually have square or rectangular solid cross sections. In general, latticed components are manufactured at specialized factories and delivered to the building site as individual straight and connecting elements, prefabricated units, or fully completed products.
The leading trends in the production and application of latticework today involve minimizing the weight of the structures, improving the load-carrying capacity, using efficient structural forms, such as three-dimensional crossbar slabs, cupolas, and vaults, and high-strength materials, extending the applications of prestressed latticed structures, and improving the connecting nodes of members.
REFERENCES
Konstruktsii grazhdanskikh zdanii. Edited by M. S. Tupolev. Moscow, 1968.
Mel'nikov, N. P. Metallicheskie konstruktsii za rubezhom. Moscow, 1971.
Konstruktsii promyshlennykh zdanii. Edited by A. N. Popov. Moscow, 1972.
latticework
Reticulated or net-like work formed by the crossing of laths or narrow, thin strips of wood or iron, usually in a diagonal pattern.