Leaching field
Leaching field
A system of underground tile or pipes arranged in trenches filled with gravel on the downhill side of a septic tank. The waste is discharged into the tile bed and seeps into the soil along the lengths of the feeders.
Illustrated Dictionary of Architecture Copyright © 2012, 2002, 1998 by The McGraw-Hill Companies, Inc. All rights reserved
absorption field, disposal field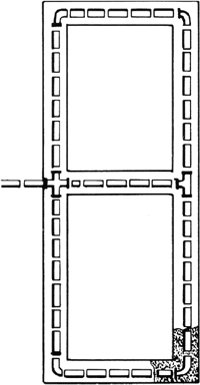 A system of trenches containing coarse aggregate and distribution pipes through which septic-tank effluent may seep into the surrounding soil.
McGraw-Hill Dictionary of Architecture and Construction. Copyright © 2003 by McGraw-Hill Companies, Inc.