griffin
(redirected from Legendary creature griffin)
Also found in:
Dictionary
,
Thesaurus
.
Related to Legendary creature griffin:
Keythong
Griffin,
city (1990 pop. 21,347), seat of Spalding co., W central Ga., in a farm and cotton area increasingly integrated into metropolitan Atlanta's economy; inc. 1843. The city's textile and clothing industries are in decline; other manufactures include leather, plastics, and transportation equipment. Nearby is a state agricultural station.
---
griffin,
in ancient and medieval legend, creature with the head and wings of an eagle and the body of a lion. Its name also appears as griffon and gryphon. The griffin originated in ancient Middle Eastern legend and is often found in Persian sculpture and the decorative arts. Although its significance is obscure, it is often thought to have been a protective symbol, representing strength and vigilance.
griffin
A mythological beast with a lion's body and an eagle's head and wings, used decoratively.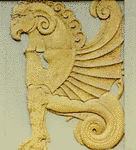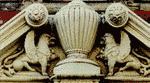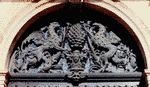 See also: Ornament
griffin, griffon, gryphon
A mythological beast having a lion's body with an eagle's head and wings; used decoratively.
griffin
fabulous animal, part eagle, part lion. [Gk. Myth. and Art: Hall, 143; Ital. Lit.: Purgatory]
griffin
1, griffon, gryphon

a winged monster with an eagle-like head and the body of a lion
---
griffin
2
a newcomer to the Orient, esp one from W Europe