Leibniz Formula
The following article is from The Great Soviet Encyclopedia (1979). It might be outdated or ideologically biased.
Leibniz Formula
a formula for the n th derivative of the product of two functions in terms of the derivatives of the factors: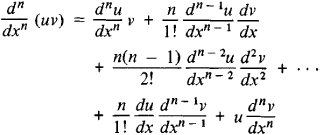 The formula was reported by G. von Leibniz in a letter to Johann Bernoulli in 1695. The Leibniz formula facilitates the finding of derivatives of higher orders.
The Great Soviet Encyclopedia, 3rd Edition (1970-1979). © 2010 The Gale Group, Inc. All rights reserved.