Libeskind, Daniel
Libeskind, Daniel,
1946–, American architect, b. Łódź, Poland. He moved to the United States in 1959, becoming a citizen in 1965. He has held a number of teaching posts, notably at the Cranbrook Academy of Art (1978–85) and the universities of Pennsylvania and Toronto, and early in his career was known mainly as an academic and theorist. His first major building, the dramatic Jewish Museum Berlin (2001), has an angular titanium-on-zinc exterior, a floor plan reminiscent of the Magen David, and an empty, concrete-walled space (the Void) symbolic of the absence wrought by the HolocaustHolocaust
, name given to the period of persecution and extermination of European Jews by Nazi Germany. Romani (Gypsies), homosexuals, Jehovah's Witnesses, the disabled, and others were also victims of the Holocaust.
.....

Click the link for more information.

. His other designs include the Felix Nussbaum Museum, Osnabrück, Germany (1998); the Imperial War Museum, Manchester, England (2002); the Danish Jewish Museum, Copenhagen (2004); the Wohl Convention Center, Tel Aviv (2005); the Hyundai office tower, Seoul (2005); and the Denver Art Museum addition (2006). Libeskind became world famous in 2003 when he won the design competition for the master rebuilding plan for New York's World Trade CenterWorld Trade Center,
former building complex in lower Manhattan, New York City, consisting of seven buildings and a shopping concourse on a 16-acre (6.5-hectare) site; it was destroyed by a terrorist attack on Sept. 11, 2001.
.....

Click the link for more information.

site, but in the years since his role in the project has been severely curtailed. His books include Between Zero and Infinity (1981), Countersign (1992), and The Space of Encounter (2001).
Bibliography
See his memoir, Breaking Ground: An Immigrant's Journey from Poland to Ground Zero (2004).
The Columbia Electronic Encyclopedia™ Copyright © 2013, Columbia University Press. Licensed from Columbia University Press. All rights reserved.
www.cc.columbia.edu/cu/cup/
Libeskind, Daniel
(1946–)

American architect, artist, and set designer of Polish-Jewish descent. Libeskind founded Studio Daniel Libeskind in 1989 with his wife, Nina. His buildings include the Jewish Museum in Berlin. Germany (1999); the extension to the Denver Art Museum (2005) Denver, CO; the Grand Canal Theatre in Dublin, Ireland; the Imperial War Museum North in Salford Quays, England; the Michael Lee-Chin Crystal at the Royal Ontario Museum in Toronto, Canada; the Felix Nussbaum Haus in Osnabrück, Germany; the Danish Jewish Museum in Copenhagen, Denmark (2003); and the Wohl Centre at the Bar-Ilan University in Ramat-Gan, Israel. In 2003, Libeskind won the competition to be the master plan architect for the reconstruction of the World Trade Center site in Lower Manhattan, NY (2002), which was destroyed in the September 11, 2001, attacks. The studio's completed projects include the Contemporary Jewish Museum (illus.) in San Francisco, CA (2005); The Ascent at Roebling's Bridge in Covington, KY; and the Royal Ontario Museum in Toronto, Canada.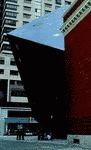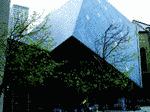 Illustrated Dictionary of Architecture Copyright © 2012, 2002, 1998 by The McGraw-Hill Companies, Inc. All rights reserved