lifting body
(redirected from Lifting bodies)
Also found in:
Dictionary
.
lifting body
[

′lift·iŋ 'bäd·ē

]

(aerospace engineering)

A maneuverable, rocket-propelled, wingless craft that can travel both in the earth's atmosphere, where its lift results from its shape, and in outer space, and that can land on the ground.
lifting body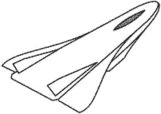 Any body or shape of a fuselage of an aircraft that produces lift. If it is the main or chief source for lift, such a device can fly without wings. Hypersonic aircraft and spacecraft use lifting bodies.