Lightning Arrester
Also found in:
Dictionary
,
Thesaurus
,
Wikipedia
.
lightning arrester
[

′līt·niŋ ə'res·tər

]

(electricity)

A protective device designed primarily for connection between a conductor of an electrical system and ground to limit the magnitude of transient overvoltages on equipment. Also known as arrester; surge arrester.

McGraw-Hill Dictionary of Scientific & Technical Terms, 6E, Copyright © 2003 by The McGraw-Hill Companies, Inc.
The following article is from The Great Soviet Encyclopedia (1979). It might be outdated or ideologically biased.
Lightning Arrester
a device used to protect buildings and transportation, public, and agricultural structures from lightning strokes. A lightning arrester consists of an electrode in the shape of a thin metal rod with a point at one end, located above the object being protected (a lightning rod), or a wire electrode (cable), which is usually suspended above power lines (lightning-protection cable), and reliable grounding with a total resistance not exceeding 10–20 ohms. The protective effect of a lightning arrester depends strongly on the dimensions of the protected zone, whose boundaries are determined by the locus of the points enclosing a space within which the probability of a direct lightning stroke is 10−3 to 10−4 (the lightning arrester intercepts more than 99 percent of lightning discharges).
The protected zone of a single rod-shaped lightning arrester has roughly the shape of a cone with a vertex angle of 45°; a single lightning-protection cable has a protected zone shaped like a trihedral prism, with the cable forming one of its edges. In the presence of two or more lightning arresters, an object may be protected even if it is not within the protected zones, since in this case the probability of lightning striking the object is markedly reduced. In power substations the operating ground is usually used to lead off lightning currents.
For small residential buildings and other buildings with metal roofs, adequate lightning protection can be obtained by secure grounding of the roof. In practical terms, buildings with central heating systems, water supply piping, and underground electric wiring are protected from lightning and do not require special lightning arresters.
To protect buildings in which the formation of explosive mixtures, dusts, vapors, or gases is possible, the lightning arresters are insulated from the buildings and are usually single, free-standing lightning rods located in such a way that all parts of the building are within the protection zones. In this arrangement each lightning arrester must have its own grounding.
The Great Soviet Encyclopedia, 3rd Edition (1970-1979). © 2010 The Gale Group, Inc. All rights reserved.
lightning arrester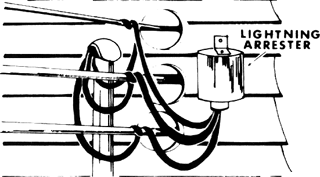 A device which is connected in an electric wiring system (usually between a line voltage terminal and ground) to protect the wiring system from damage from lightning or any other abnormally high surge of voltage.
McGraw-Hill Dictionary of Architecture and Construction. Copyright © 2003 by McGraw-Hill Companies, Inc.