Limiter
(redirected from Limite)
Also found in:
Dictionary
,
Thesaurus
,
Medical
,
Financial
,
Wikipedia
.
limiter
[

′lim·əd·ər

]

(electronics)

An electronic circuit used to prevent the amplitude of an electronic waveform from exceeding a specified level while preserving the shape of the waveform at amplitudes less than the specified level. Also known as amplitude limiter; amplitude-limiting circuit; automatic peak limiter; clipper; clipping circuit; limiter circuit; peak limiter.
Limiter
(in electronic engineering), a device that provides a constant output voltage level when the value of the input voltage exceeds a limiting threshold. Limiters are used extensively in pulse technology to shape and transform pulses and in radio broadcasting and multichannel communication apparatus to limit signal levels. Amplitude limiters provide a specified maximum level for the amplitudes of the fundamental oscillation (first harmonic); limiters of instantaneous values "clip off" any overshoots of oscillations.
The operation of a limiter depends on abrupt change in the conductivity of a nonlinear component (transistor, semiconductor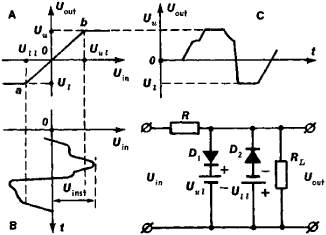 diode, electron tube, and so on) when the amplitude or instantaneous value of the input voltage reaches the limiting threshold; because of this, a futher increase in the amplitude or instantaneous value of the output voltage is stopped (see Figure 1). A distinction is made between limiters with unilateral operation (with only an upper or lower limiting threshold) and clipper-limiters.
limiter
A special-purpose fuse (usually of high current-interrupting rating) designed to protect an electrical circuit or equipment from the effects of high
available short-circuit current
by limiting the amount of current permitted to flow through it.