low
(redirected from Low, Sir David (Alexander Cecil))
Also found in:
Dictionary
,
Thesaurus
,
Financial
.
low
1. Biology not advanced in evolution
2. of relatively small price or monetary value
3. Music relating to or characterized by a relatively low pitch
4. (of latitudes) situated not far north or south of the equator
5. (of a gear) providing a relatively low forward speed for a given engine speed
6. of or relating to the Low Church
7. Meteorology an area of relatively low atmospheric pressure, esp a depression
8. Electronics the voltage level in a logic circuit corresponding to logical zero
---
Low
Sir David. 1891--1963, British political cartoonist, born in New Zealand: created Colonel Blimp
Collins Discovery Encyclopedia, 1st edition © HarperCollins Publishers 2005
low
[

lō

]

(geology)

McGraw-Hill Dictionary of Scientific & Technical Terms, 6E, Copyright © 2003 by The McGraw-Hill Companies, Inc.
low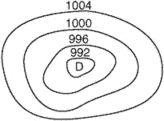 A region of relatively low pressure depicted by more or less circular and concentric isobars surrounding the center where the pressure is the lowest. The size of the low circulation may be as few as tens of yards (meters) as in a tornado, or it may be a few hundred miles (kilometers) as in a cyclone. A low is the first stage of a developing weather system. With deepening of the system, it becomes a
depression
, and, with further growth, it can form into a cyclone. In a low, the associated winds are up to 17 knots; in a
depression
, the speeds are from 17 to 27 knots; and, in a deep
depression
, they are up to 33 knots.
An Illustrated Dictionary of Aviation Copyright © 2005 by The McGraw-Hill Companies, Inc. All rights reserved