Lung Volumes
Also found in:
Dictionary
,
Thesaurus
,
Medical
,
Wikipedia
.
The following article is from The Great Soviet Encyclopedia (1979). It might be outdated or ideologically biased.
Lung Volumes
the volume of the air contained in the lungs at various degrees of thoracic expansion.
With maximum exhalation, the gaseous contents of the lungs decrease to the residual volume (RV). The normal inhalation position adds to this the expiratory reserve volume (ERV), or the reserve air. The tidal volume (TV) is added by the end of inhalation (respiratory air). The inspiratory reserve volume (IRV), or complemental air, is added by the end of maximum inhalation.
The sum of the RV and the ERV is called the functional residual capacity (FRC); the sum of the TV and the IRV, the inspiratory capacity (IC); the sum of the ERV, the TV, and the IRV, the vital capacity (VC); and the sum of the RV, the ERV, the TV, and the IRV, the total capacity (TC) of the lungs. All lung volumes, with the exception of the RV and the TC, can be determined by measuring the volume of air exhaled into a spirometer or spirograph. The RV, the FRC, and the TC can be measured by inhaling an indicator gas, establishing its degree of diffusion in the lungs by gas analysis.
Lung volumes depend on height (directly), age (inversely, after age 30), sex (10–20 percent less in women than in men), and physical development (20–30 percent greater in athletes). Tables, nomograms, and formulas have been worked out for determining the VC and lung volumes expected in healthy persons (see Figure 1). Lung volumes are expressed as absolute (in ml) and relative (in percentages of the necessary volumes and TC) quantities. In men, the VC is 3,500–4,500 ml (in some cases reaching 6,000 ml); in women, 2,500–3,500 ml. Determination of the lung volumes is important in evaluating the condition of the external respiratory system. The volumes undergo characteristic changes with many diseases (especially diseases of the respiratory and cardiovascular systems).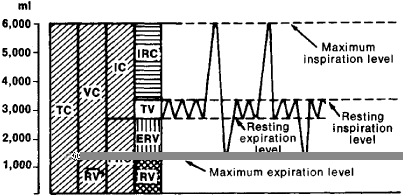 The Great Soviet Encyclopedia, 3rd Edition (1970-1979). © 2010 The Gale Group, Inc. All rights reserved.