Maeander
(redirected from Mæander)
Also found in:
Dictionary
,
Thesaurus
.
Maeander
(mēăn`dər)

, ancient name of the Büyük Menderes River, c.250 mi (400 km) long, W Turkey. It rises in three branches W of Afyonkarahisar and flows generally W into the Aegean Sea. Its valley is extremely fertile. Its winding and wandering course gave rise to the word meander.
Maeander
(Maíandros), ancient name for the Büyük Menderes River in Turkey, noted for its many bends. The river's name has become a common designation for the winding course of a river (meandering).
labyrinth fret, key pattern, meander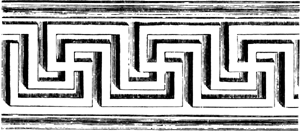 A fret with many involved turnings.