Milo
Also found in:
Dictionary
,
Thesaurus
,
Acronyms
,
Wikipedia
.
milo
or
milo maize:
see sorghumsorghum,
tall, coarse annual (Sorghum bicolor) of the family Poaceae (grass family), somewhat similar in appearance to corn (but having the grain in a panicle rather than an ear) and used for much the same purposes.
.....

Click the link for more information.

.
---
Milo
(mī`lō)

or
Milon
(mī`lŏn)

, fl. 500 B.C., athlete of ancient Greece, b. Crotona. He won numerous victories in wrestling at the Olympic and Pythian games. He is said to have carried a heifer on his shoulders through the Olympic stadium, killed her with a blow of his fist, and devoured her in the course of a day. Finding a tree partially split, he attempted, according to legend, to tear it apart but caught his hand and was eaten alive by wolves.
---
Milo
(Titus Annius Papianus Milo), 95 B.C.–47 B.C., Roman partisan leader. As tribune of the people (57 B.C.) he obtained the recall from exile of Cicero. At the insistence of PompeyPompey
(Cnaeus Pompeius Magnus) , 106 B.C.–48 B.C., Roman general, the rival of Julius Caesar. Sometimes called Pompey the Great, he was the son of Cnaeus Pompeius Strabo (consul in 89 B.C.), a commander of equivocal reputation.
.....

Click the link for more information.

, Milo hired a gang to fight the gang of ClodiusClodius
(Publius Clodius Pulcher) , d. 52 B.C., Roman politician. He belonged to the Claudian gens (see Claudius), and his name is also written as Publius Claudius Pulcher. He was brother to Appius Claudius Pulcher and to the notorious Clodia. In 62 B.C.
.....

Click the link for more information.

. The rivals kept Rome in an uproar until it ended (52 B.C.) in the death of Clodius in an affray at Bovillae, on the Appian Way. Pompey was appointed sole consul to restore order in the city, and Milo was brought to trial. Cicero, his advocate, was so intimidated that he did not deliver his oration, which he later published (Pro Milone). Milo was exiled to Massilia, joined the insurrection of Marcus Caelius in Italy, and was defeated, captured, and killed. Milo's wife was Sulla's daughter.

The Columbia Electronic Encyclopedia™ Copyright © 2013, Columbia University Press. Licensed from Columbia University Press. All rights reserved.

www.cc.columbia.edu/cu/cup/
Milo
loaned gold for huge interest rates and sexual favors. [Gk. Lit.: The Golden Ass]
Allusions—Cultural, Literary, Biblical, and Historical: A Thematic Dictionary. Copyright 2008 The Gale Group, Inc. All rights reserved.
mylo
(MY Life Online) A handheld Internet appliance from Sony that provided Web access, instant messaging, photo sharing, music and video playback and a Skype telephone. Introduced in 2006, the tiny mylo used a Wi-Fi connection and a thumb keyboard for data entry. An enhanced mylo 2 model was introduced in 2008 but the product line was dropped in 2010. See Internet appliance.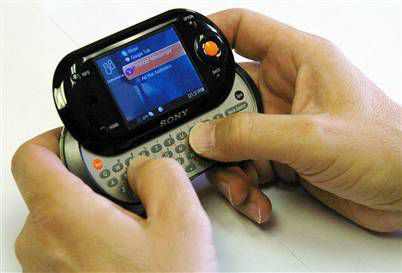 My Life Online
Designed as an alternative to a smartphone without the monthly fee, Sony's mylo packed a lot of functions into a small space. The screen slid up to reveal the thumb keyboard. (Image courtesy of Sony Electronics, Inc., www.sony.com)
Copyright © 1981-2019 by The Computer Language Company Inc. All Rights reserved. THIS DEFINITION IS FOR PERSONAL USE ONLY. All other reproduction is strictly prohibited without permission from the publisher.