Mo
Also found in:
Dictionary
,
Thesaurus
,
Medical
,
Legal
,
Financial
,
Acronyms
,
Idioms
,
Wikipedia
.
Mo,
symbol for the element molybdenummolybdenum
[Gr.,=leadlike], metallic chemical element; symbol Mo; at. no. 42; at. wt. 95.96; m.p. about 2,617&degC;; b.p. about 4,612&degC;; sp. gr. 10.22 at 20&degC;; valence +2, +3, +4, +5, or +6.
.....

Click the link for more information.

.

The Columbia Electronic Encyclopedia™ Copyright © 2013, Columbia University Press. Licensed from Columbia University Press. All rights reserved.

www.cc.columbia.edu/cu/cup/
MO
Symbol for solar mass.

Collins Dictionary of Astronomy © Market House Books Ltd, 2006
Missouri

State Information
Phone:
(573) 751-2000
www.missouri.gov
Area

(sq mi)::

69704.31 (land 68885.93; water 818.39)
Population per square mile:

84.20
Population

2005:

5,800,310
State rank:

0
Population change:

2000-20005 3.70%; 1990-2000 9.30%
Population

2000:

5,595,211 (White 83.80%; Black or African American 11.20%; Hispanic or Latino 2.10%; Asian 1.10%; Other 2.80%). Foreign born: 2.70%. Median age: 36.10
Income

2000:

per capita $19,936; median household $37,934;
Population below poverty level:

11.70%
Personal per capita income

(2000-2003):

$27,241-$29,464
Unemployment

(2004):

5.80%
Unemployment change

(from 2000):

2.50%
Median travel time to work:

23.80 minutes
Working outside county of residence:

33.40%
---
List of Missouri counties:
Counties USA: A Directory of United States Counties, 3rd Edition. © 2006 by Omnigraphics, Inc.
Parks Directory of the United States, 5th Edition. © 2007 by Omnigraphics, Inc.
The following article is from The Great Soviet Encyclopedia (1979). It might be outdated or ideologically biased.
Mo
(Mo i Rana), a city in Norway, located on the Ran Fjord in the fylk (county) of Nordland. The population of the city and its surrounding areas exceeds 25, 000. Mo is a major metallurgical center, producing four-fifths of the country's iron and three-quarters of its steel. The city was founded in 1946 around the local iron ore mining industry; nonferrous ores are also mined nearby.
The Great Soviet Encyclopedia, 3rd Edition (1970-1979). © 2010 The Gale Group, Inc. All rights reserved.
Mo
(chemistry)
McGraw-Hill Dictionary of Scientific & Technical Terms, 6E, Copyright © 2003 by The McGraw-Hill Companies, Inc.
MO
On drawings, abbr. for "month."
McGraw-Hill Dictionary of Architecture and Construction. Copyright © 2003 by McGraw-Hill Companies, Inc.
mo
(networking)

This article is provided by FOLDOC - Free Online Dictionary of Computing (foldoc.org)
magneto-optic disk
An earlier removable, rewritable optical disk that also used magnetic technology. Introduced in 1985, magneto-optic (MO) media and drives are no longer manufactured. Refurbished drives and media are available from MaxOptix.com.

Laser-Magnetic Writing
A laser heats the optical bit to the Curie point, and a magnet changes the bit's polarity. The laser is on one side of the platter and the magnet on the other, which requires double-sided media to be manually flipped over to access the other side.

Writing initially sets the bits to zero and then writes the data in a second pass. A single-pass LIMDOW (Light Intensity Modulated Direct OverWrite) method was later added, and many drives supported the more costly LIMDOW media.

Laser Reading
A low-power laser light is reflected from the bits, and depending on their polarity, the difference in the light's rotation is sensed. See UDO, Kerr effect and optical disc.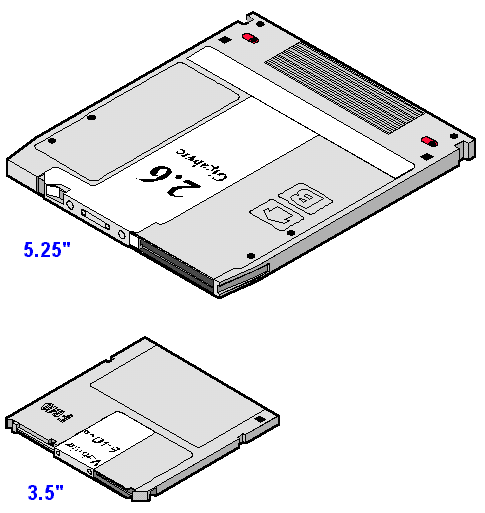 Magneto-Optic Removable Cartridges
The 3.5" media are single sided, while the 5.25" disks are double sided. With a 50-year shelf life, up to 9.1GB of storage and capable of a million rewrites, access times are in the sub-25 ms range, much faster than optical-only CD/DVD media.
Copyright © 1981-2019 by The Computer Language Company Inc. All Rights reserved. THIS DEFINITION IS FOR PERSONAL USE ONLY. All other reproduction is strictly prohibited without permission from the publisher.