MSW Thesaurus
MSW Thesaurus
If you are trying to find just the right word, the thesaurus provides synonyms for any words you have written. To review the alternate possibilities, click on the word in question and select Tools/Language/Thesaurus. To use a synonym on the right side of the dialog box, click the word and click Replace.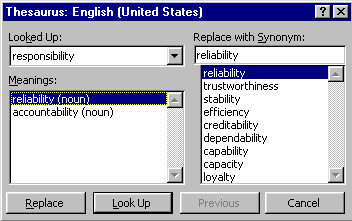 Keyboard Tip!
Press Shift-F7 to call up the thesaurus.





Further Clarification
If you see an interesting synonym, you can learn more about it by selecting it and clicking Look Up. The synonyms for that word will be displayed so you can gain a better understanding of its usage. For example, suppose you think "trustworthiness" might be the right choice. By clicking the word and then Look Up, synonyms for trustworthiness will appear.

Copyright © 1981-2019 by The Computer Language Company Inc. All Rights reserved. THIS DEFINITION IS FOR PERSONAL USE ONLY. All other reproduction is strictly prohibited without permission from the publisher.