MacBook
(redirected from Mac book)
MacBook
The MacBook is Apple's third laptop computer family, introduced in 2006 (see PowerBook and iBook). In 2015, new MacBooks featured Apple's Retina Display and higher resolutions, as well as the Force Touch trackpad that senses different pressure levels. By the end of 2016, all MacBooks used solid state drives (SSDs).

MacBook Pro
The MacBook Pro was the first Mac laptop to use Intel CPUs, and the Pro line offers the fastest processors and largest screens (see MacBook Pro).

The Non-Pro, Non-Air MacBook
The "just plain" MacBook is Apple's entry-level laptop. Debuting in 2007, it was dropped in 2011 only to be resurrected thinner and lighter in 2015 with a USB-C port for both charging and connectivity (see USB Type C).

MacBook Air
Launched in 2008, the Air's touchpad added the multitouch capability introduced on the iPhone, which supports gestures. The 2018 Air with Retina Display has a high-resolution screen, Touch ID and USB-C ports. Until 2015, the Air without the Retina Display screen was the entry-level laptop. See Macintosh Portable, PowerBook, iBook and Macintosh.

CURRENT MACBOOK MODELS    SSD    MaxScreen  Storage  RAM  WeightSize     (GB)   (GB)  (lbs)Pro TB* 15"  512-4096  32   4.02
 Pro TB*  13"   256-2048  16   3.02

 Pro        13"   256-1024  16   3.02

 Air RD**   13" 128-1536  16   2.75
 Air        13"   128-512    8   2.96

 MacBook12"   256-512   16   2.03

  * Touch Bar   ** Retina Display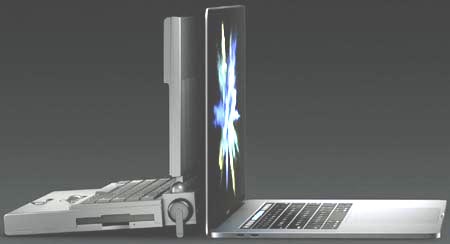 From PowerBook to MacBook
The processing power in the 2016 MacBook (right) is nearly seven million times greater than the first Mac PowerBook laptop in 1991. (Image courtesy of Apple Inc.)