MacBook
Also found in:
Dictionary
,
Thesaurus
,
Medical
,
Legal
,
Acronyms
,
Wikipedia
.
MacBook
Apple's laptop computer family, introduced in 2006. By the end of 2016, all MacBooks used solid state drives (SSDs). The MacBook Pro was the first MacBook and the first Mac laptop to use Intel CPUs, and the Pro line offers the fastest processors and largest screen size. In 2015, new models featured Apple's Retina Display and higher resolutions, as well as the Force Touch trackpad which senses different pressure levels. In 2016, MacBook Pros were introduced with the Touch Bar extension to the user interface (see below).

The Non-Pro, Non-Air MacBook
The "just plain" MacBook is Apple's entry-level laptop. Debuting in 2007, it was dropped in 2011 only to be resurrected thinner and lighter in 2015 with a USB-C port for both charging and connectivity (see USB Type C).

MacBook Air
Launched in 2008, the Air's touchpad added the multitouch capability introduced on the iPhone, which supports gestures with more than one finger.

Touch Bar With Integrated Touch ID
In 2016, new MacBook Pro models feature a toolbar with touchscreen keys in place of physical function keys. The touch keys switch to different menus, icons and sliders depending on the running application. The Touch Bar also includes Apple's Touch ID for Apple Pay and logins. See Macintosh Portable, PowerBook, iBook and Macintosh.

CURRENT MACBOOK MODELS (End of 2016)    SSDScreen  Storage  RAM  WeightSize     (GB)   (GB)  (lbs)Pro with15"  256-2048  16   4.02
 Touch Bar13"   256-1024   8   3.02

 Pro withFunc Keys  13"   256-1024   8   3.02

 Air        13"   128-512    8   2.96

 MacBook12"   256-512    8   2.03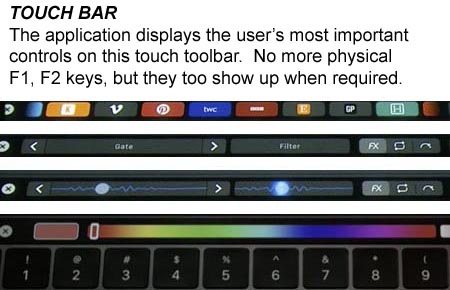 MacBook Pro Touch Bar in 2016
The Pro line includes a touch toolbar in place of physical function keys. An innovative addition, each application displays its most important functions for the entire app or for the process that is running. Old-style F1-F10 function keys can also be displayed, and users can configure their own keys for various apps. (Images courtesy of Apple Inc.)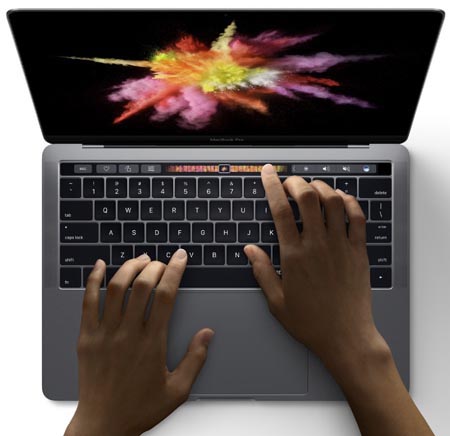 MacBook Pro Touch Bar in 2016
The Pro line includes a touch toolbar in place of physical function keys. An innovative addition, each application displays its most important functions for the entire app or for the process that is running. Old-style F1-F10 function keys can also be displayed, and users can configure their own keys for various apps. (Images courtesy of Apple Inc.)