nipple
(redirected from Mammary papilla)
Also found in:
Dictionary
,
Thesaurus
,
Medical
.
nipple
1. the small conical projection in the centre of the areola of each breast, which in women contains the outlet of the milk ducts
2. a small drilled bush, usually screwed into a bearing, through which grease is introduced
Nipple
a threaded metal connecting pipe used to achieve a tight connection of a coupling to a pipeline by means of a coupling nut. Nipples are used to connect pipelines and components of instruments and machines. Nipples with outside thread are used to assemble radiators for central heating systems. The parts used to fasten the spokes to the rim of a bicycle wheel are also called nipples.
nipple
[

′nip·əl

]

(anatomy)

The conical projection in the center of the mamma, containing the outlets of the milk ducts.

(design engineering)

A short piece of tubing, usually with an internal or external thread at each end, used to couple pipes. Also known as bushing.
nipple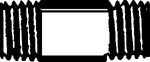 A short length of pipe with threads at each end; used to join couplings or fittings.