Maybeck, Bernard
Maybeck, Bernard
Maybeck, Bernard, 1862–1957, American architect, b. New York City. After studying at the École des Beaux-Arts, Paris, he became one of the leading architects in California. From the 1890s to the 1920s, Maybeck created warm and intimate houses of redwood and shingles. His mastery of larger spaces was apparent in Hearst Hall (1899; destroyed by fire 1922) at the Univ. of California, Berkeley, a building in which he introduced the laminated wooden arch. In his masterpiece, the Christian Science church in Berkeley (1910), he unified elements from many styles, using a wide range of materials—industrial steel sash, cement asbestos panels, and exposed concrete. For the San Francisco Exposition of 1915 he designed the Palace of Fine Arts.
Bibliography
See E. McCoy, Five California Architects (1960).
The Columbia Electronic Encyclopedia™ Copyright © 2022, Columbia University Press. Licensed from Columbia University Press. All rights reserved.
Maybeck, Bernard
(1862–1937)

Designed the Christian Science Church (illus.), Berkeley, CA, in a mixture of styles. He also designed the Palace of Fine Arts (illus.), San Francisco, for the Pan Pacific International Exposition of 1915. The Exposition buildings were demolished, but the Palace remains, rebuilt out of permanent materials, an exact replica of the original structure.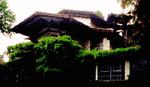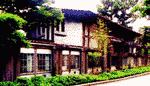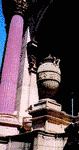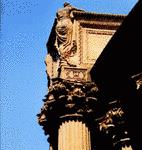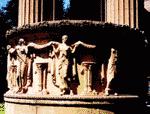 Illustrated Dictionary of Architecture Copyright © 2012, 2002, 1998 by The McGraw-Hill Companies, Inc. All rights reserved
Maybeck, Bernard (Ralph)
(1862–1957) architect; born in New York City. He studied at the École des Beaux-Arts, Paris, and established his own office in Berkeley, California (1902). He designed mostly Bay Area suburban houses and community projects, although his best-known works include the Palace of Fine Arts, San Francisco (1913–15). His uniquely inventive designs drew on various traditions and showed unusual diversity of form, scale, and materials.