Mayne, Thom
Mayne, Thom,
1944–, American architect, b. Waterbury, Conn., grad. Univ. of Southern California (B.A., 1968), Harvard (M.A., 1978). In 1972 Mayne cofounded the firm Morphosis in Santa Monica, Calif., where he is still principal. That year he also was a founder of the influential Southern California Institute of Architecture. Mayne has achieved a reputation as a brilliant architectural maverick for the wide variety of public buildings he has designed in the United States and abroad. Elements that often characterize his work include unconventional angular and jutting forms; double skins of glass and perforated metal; inventive use of natural and artificial light; innovative façades and curving walls; and elevators that skip floors. The Diamond Ranch High School (1999), a bold, angular, cantilevered set of structures of glass, concrete, and corrugated metal on a California hillside, is often regarded as his breakthrough project. Among his other projects are the Sun Tower, Seoul, South Korea (1997); the Hypo Alpe-Adria Center, Klagenfurt, Austria (2002); the Caltrans District 7 building, Los Angeles (2004); the federal courthouse, Eugene, Oreg. (2006); the federal office building, San Francisco (2006); and the academic building at Cooper Union, New York City (2009). The Perot Museum of Nature and Science, Dallas, Tex. (2012), exemplifies the bold, inventive Mayne/Morphosis style: A five-story, nearly windowless cube faced with textured concrete, it is split open at one corner to create a facade and atrium faced with glass and steel; the sides of the cube appear held together outside by a 150-ft-long (46-m) glass-enclosed diagonal "brace" that in part contains an escalator. Mayne, who has taught at Univ. of California, Los Angeles since 1993, was awarded the Pritzker PrizePritzker Prize,
officially The Pritzker Architecture Prize
, award for excellence in architecture, given annually since 1979. Largely modeled on the Nobel Prize, it is the premier architectural award in the United States and is named for the family that founded the
.....

Click the link for more information.

in 2005 and the AIA Gold Medal in 2012.
Bibliography
See his Morphosis (2003).
The Columbia Electronic Encyclopedia™ Copyright © 2013, Columbia University Press. Licensed from Columbia University Press. All rights reserved.
www.cc.columbia.edu/cu/cup/
Mayne, Thom
(1944–)

Los Angeles–based architect Mayne helped found the Southern California Institute of Architecture (SCI-Arc) in 1972, where he is a trustee. He is principal of Morphosis, an architectural firm in Santa Monica, CA. Mayne received the Pritzker Architecture Prize in March 2005. Under the Design Excellence program of the U.S. government's General Services Administration, Mayne has become a primary architect for federal projects. Recent commissions include new academic building for the Cooper Union, NYC (2009); Federal Building (illus.), San Francisco, CA (2006); University of Cincinnati Student Recreation Center, OH (2006); Wayne L. Morse U.S. Courthouse in Eugene, OR (2006); Science Center School in Los Angeles, CA (2004); graduate housing at the University of Toronto, Canada (2000); and the Diamond Ranch High School in Pomona, CA (1999). Visually, the firm's architecture includes sculptural forms.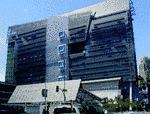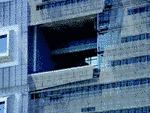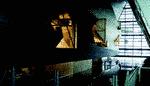 Illustrated Dictionary of Architecture Copyright © 2012, 2002, 1998 by The McGraw-Hill Companies, Inc. All rights reserved